Zelda 25th Anniversary Symphony Concerts Begin October In L.A.
Coming soon in October to a theater near you, The Legend of Zelda 25th Anniversary Symphony Concerts! Beginning in Los Angeles, California.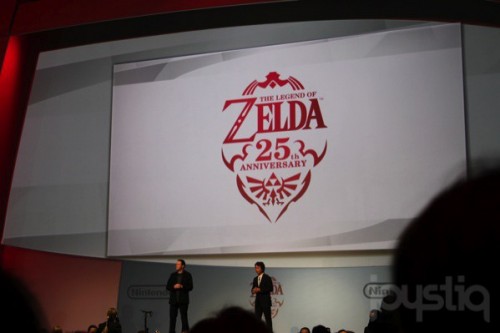 For a moment, let's consider what life as a gamer would be without the heroic sounds and symphonies from The Legend of Zelda universe. Oh wait no, that's a stupid idea. Who would ever in their right mind want for that to be our reality – seriously what a truly depressing world that would be to never hear the cherished sounds of Link opening a treasure chest.
For 25 years, from primitive sound-chip boards to today's ultra slick music composing software, The Legend of Zelda's music as forever been an inspiration and beloved accompaniment to one of Nintendo's biggest series the world over. And it will be in this 25th year, in fact, that those sounds will be touring the North America.
Starting on October 21st, Nintendo will begin holding the first of three Zelda Symphony Concerts at the Pantages Theatre in sunny, sometimes Carmageddon ridden, Los Angeles, California. The orchestral group, very much like the same one at this year's E3 event for Nintendo, will be playing a merry mix of tunes from The Legend of Zelda's extensive catalogue.
Koji Kondo, the well-known key composer for many of Nintendo famous games including the Zelda series, will be in charge of selecting the playlist for the Zelda Symphony Concert tour, with Jason Michael Paul Productions producing the concerts themselves. No doubt they'll be the perfect guys for the job – they also produced the Play! A Video Game Symphony tour that in addition specialized in playing the iconic sounds from other popular video games of old ( you should really check them out sometime on YouTube!)
Tickets for the Zelda Symphony Concert in L.A. will begin to sell on August 1st — at a totally reasonable $35 buckaroos. Now, Nintendo is still mums on an exact schedual for the whole tour and which lucky cities will be hosting these 25th anniversary musical tributes to Zelda, but hopefully it will make as many stops as possible.
Via: IGN