Giant Lego Nintendo DSi made with 51,324 Bricks
This giant Lego Nintendo DSi is definitely bigger than life and is more than enough to be a source of inspiration for gamers, geeks, Lego fans and all Nintendo freaks out there. Good thing we got some personal answers (below) from the maker Sean Kenney, because such a project could raise a lot of questions.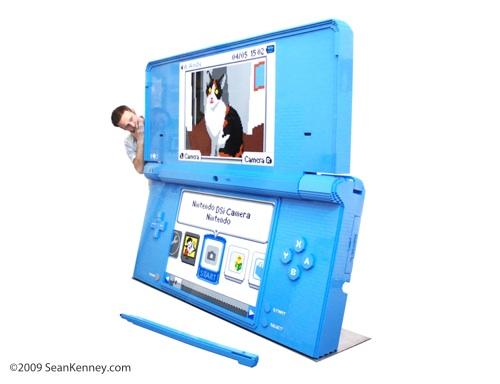 I don't know if to call this huge Lego creation a Nintendo DS mod or simply take it as an artist's commission to make a gaming console look like a giant child's toy. Either way, it is a beautiful masterpiece that deserves more than a few looks, pictures, and hats to be taken off.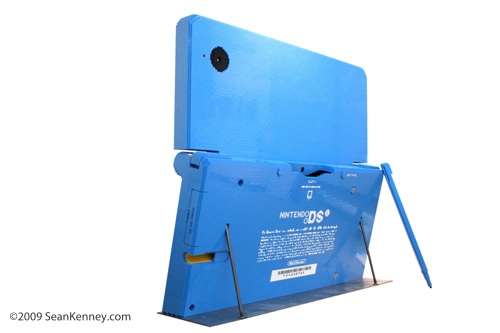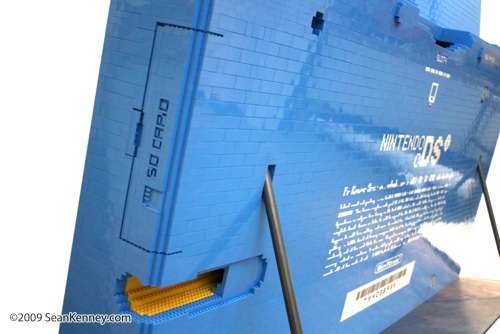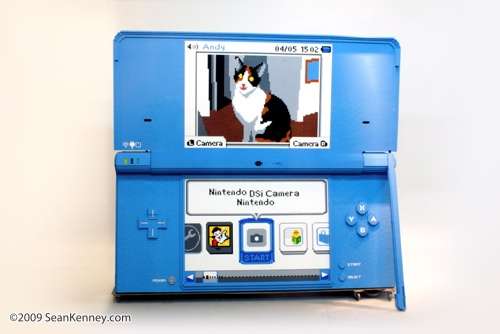 Made by the artist Sean Kenney, this Nintendo DSi creation is made up of 51,324 colorful bricks to bring the handheld game to an oversized toy sculpture. Overall, it took over 200 hours of work, weighs at approximately 250 Pounds and is just about 7 feet wide…you can see the fast motion video of it being built below. Talking about big games!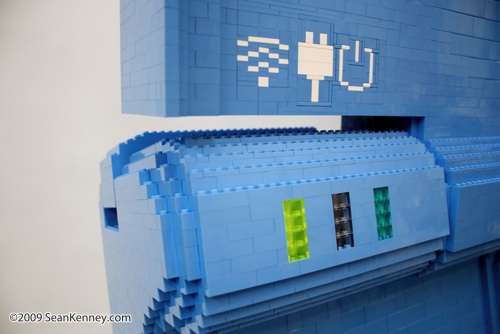 We were able to reach Sean personally and ask him a few questions about this project:
Was this project your idea which was later commissioned or vice versa?
The project was the brainchild of Nintendo of America, who first thought up the idea, then sought me out and commissioned me to create the sculpture.  We worked together to come up with the basic presentation (they liked the idea of it standing nearly upright, and they like the idea of featuring the camera application) and then I took over by designing the whole sculpture by hand.  They liked the way it came out so much that they commissioned four small "life-size" DSi's which will also be on display inside the store.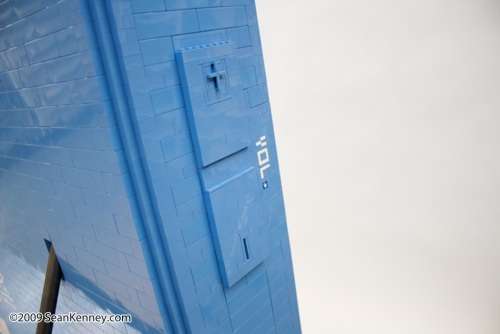 Was Lego your first choice to use and what inspired Lego and not other materials?
I am a full-time artist who creates sculptures exclusively with LEGO bricks.  I am licensed by The LEGO Group as a LEGO Certified Professional to do projects like this and have created LEGO sculptures for TV, celebrities, museums, galleries, major corporations, schools, stores, and more.
A sculpture made with LEGO bricks is fun and bright and something everyone can relate to!  When you look at a LEGO sculpture you understand how it was put together, and maybe even can imagine doing it yourself.  It's great to watch kids get excited and start creating things themselves.  You don't see that same thing happening when people view bronze sculptures or oil paintings.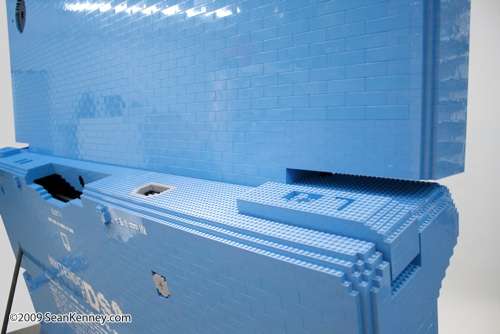 How Long will it be showing in New York?
The LEGO sculpture will be on display at the Nintendo World Store, Rockefeller Center (48th Street between 5th & 6th Avenues) throughout April.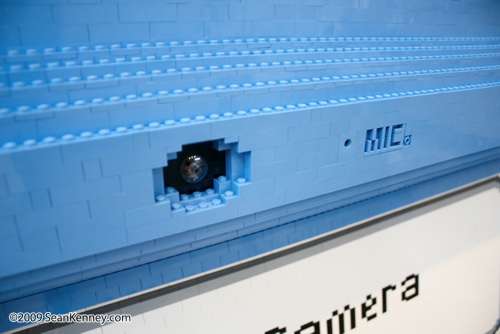 Other personal comments from Sean:
The sculpture took about 200 hours to design and build, which was done over the course of about 2 weeks together with two of my assistants.
In designing the sculpture, I gathered as many photographs of the DSi as I could, and then used graph paper to plan out the basic shape and size and all the visual elements like printed lettering, buttons, slots, and so on.  Eventually Nintendo mailed me a real DSi and I took hundreds of measurements, from the depth of the buttons to the width of the tiny bevel around the edges.
I had to rush-order an enormous supply of LEGO pieces directly from The LEGO Group's production facilities in Europe, since the entire sculpture is built in a hard-to-find "light blue" LEGO color.  That said, there are only about 10 different types of LEGO pieces used in the sculpture… all basic rectangles, and all available commercially in regular retail LEGO products.  (Yes, kids, you too can do this at home!) 🙂
The final sculpture has giant-sized versions of every detail, from the screws on the battery cover to the pickup contacts in the power port.  The tiny SD card slot is over a foot tall!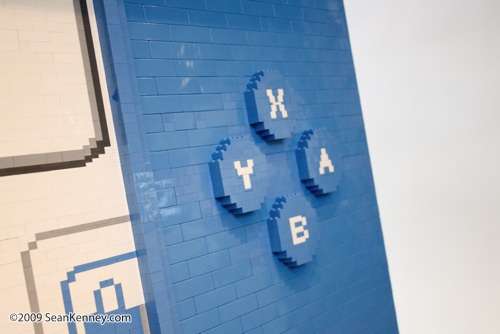 With the launch of the new Nintendo DSi, Nintendo World Store has decided to add a little extra for all the visitors, children, gamers and others that want to get their hands on the new portable handheld. It is no wonder that such an art project was made for the launch and adds more than just little publicity.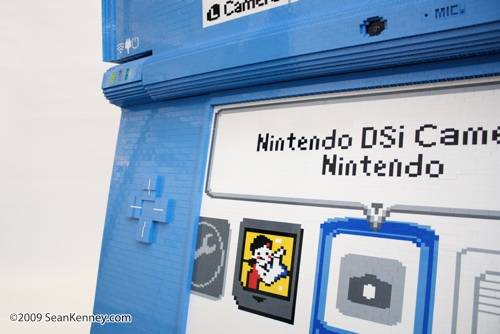 I do wonder if once the big hype behind the DSi will cool down, if this Lego statue will remain there for a long duration or perhaps move to Lego Land as an ongoing exhibition. It will work for the fans this way or that.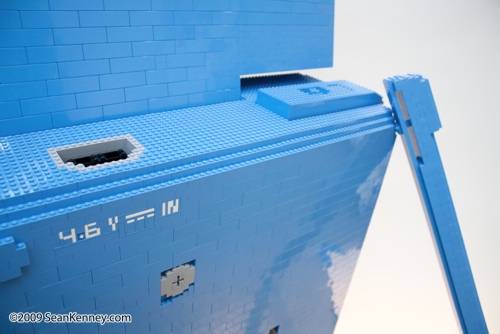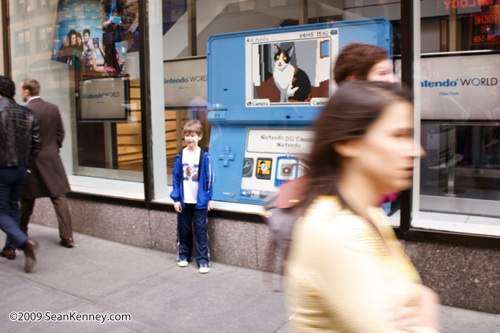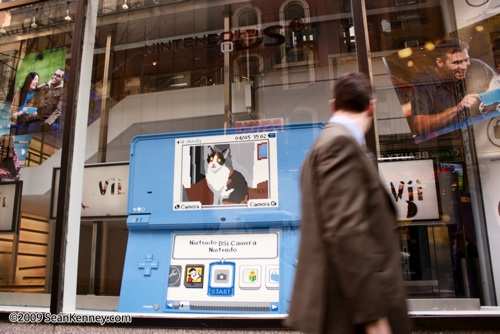 Thank you very much Sean for taking time to answer our question about this project and make such a great combination with Lego and the Nintendo DSi.