Limited Edition DSi at World Pokemon Championship 2009
Little did Nintendo know what Pokemon would be after a decade. Released in 1996, Pokemon has now become a cultural phenomenon not just limited to video games, but something that has crossed the boundaries of gaming, anime, manga to become a complete media franchise.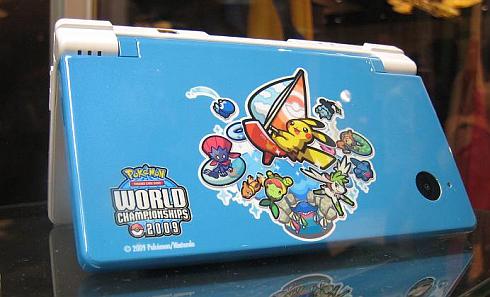 The Pokemon World Championships has now evolved into an International event where players gather to battle it out and prove who the best is. The Pokemon World Championships 2009 had a lot of visitors coming from a number of countries, and the winners had a special surprise. A selected few were given away really exclusive and limited edition DSis with a Pokemon print.
The DSi with Pokemon inspiration looks so awesome that you would go straight back to the nineties when things were still picking up for the gaming industry. Unfortunately, you won't be able to get this Pokemon DSi as it was a limited edition piece given away to just a few lucky ones as mentioned earlier. Perhaps you could mod your own DSi to make it look something similar to the one displayed here.
While Pokemon is part of the modern culture, DSi has lasted for a shorter time but has become extremely popular. You must check out this DSi Phone Rumor which we wrote about earlier. Also, Game and Watch would be available on the DSi. However, nothing beats the Pokemon DSi Limited Edition piece as the nineties media franchise almost collaborates with the postmodern DSi.
Via: Go Nintendo