Get the pleasure of farming with Farmtopia
Want to play something lighthearted yet completely fun? Then the new Farmtopia is just the game for you. Nintendo DS games have now another surprise in the market with this new one scheduled to releaseon 15 December 2010.
Here the player is basically a virtual farmer. He has to manage the farm by tending lands, planting seeds, harvesting them and making money. You also get to provide shelter and provide food to animals like goat, pig, cow, chicken, etc. You also will make earnings by selling animal products like milk, meat, eggs, animal skin, etc. Now as your money amount increases, you can increase the area of your farm. You can also make your own farm beautiful by buying decorations. You can buy developed machineries for your farm and be a great farmer.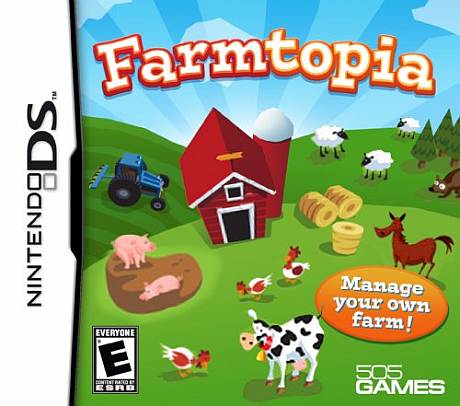 The game has a totally casual approach. It is very cheerful and funny. The characters displayed in the game are very cute looking and also cartoonish. The game has got a great product user interface. The graphics is also very stylish. With such great graphics you don't even need to get a graphics card for this game as it does not require those. This is a great surprise from the Nintendo as it has got really great features as a dual screen game.
Want to enjoy a great game? Want to be a farmer with all your farms with animals to take care of, lands to be cultivated, and seeds to be harvested? Try it out. It's available for a price tag of $14.99 which is worth the gaming experience and all the pleasure you are about to get.
You can check out a few other fames from Nintendo DS like Virtual Villagers and Dungeon Raider too.