DSi Media Station — A Great Way To Recharge, Store, And Organize Your Nintendo DSi
It looks simple in design, yet this DSi Media Station from CTA Digital pulls a Transformer and does more than meets the eye.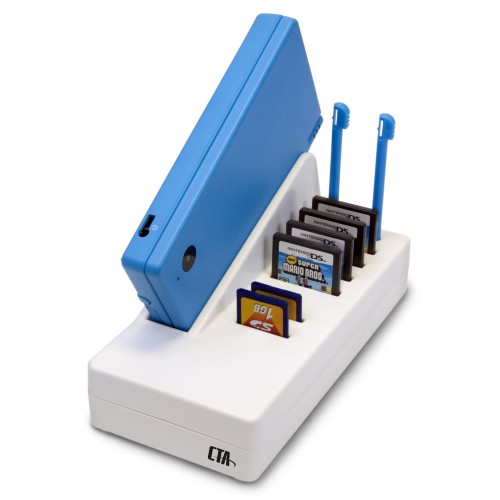 The Nintendo DSi is one snappy little portable. It has an interactive touch-screen with simple navigation with the swipe of a stylus, front and rear facing cameras for taking pictures of friends and family (that later can be humorously altered with fishbowl heads and what not,) and oh – a selection of great games of course.
Now unfortunately being a DSi owner can be quite the messy predicament – what with wires to recharge the unit, styluses, SD memory cards, and Nintendo DS games to all keep track of and tidy. Thankfully CTA Digital has a neat little accessory, which also makes quite the Christmas stocking stuffer, to aid in such a problem.
Introducing the DSi Media Station, it's a one-in-all device that not only cradles your DSi for storage, but also charges it when not in use too. Now there's no need to do the AC wire-finding shuffle just to power up your handy Nintendo portable.
The Media Station also keeps your favorite Nintendo DS games and styluses within reach, nicely stacked, and waiting for you when you need to feed your Nintendogs or shout "OBJECTION!" in Phoenix Wright.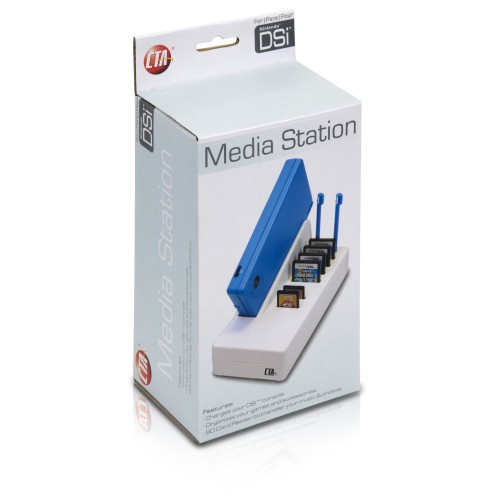 Truly what is arguably the coolest feature to the Media Station is the option to manage media content between the SD memory card and your computer (PC or Mac.) The Media Station comes with a USB cable that when plugged in, can gain access to any memory card you have inserted into Media Station.
Right now you can buy CTA Digital's DSi Media Station from Amazon, for a sweet $19.99, or put it on your wish list and maybe a special someone will gift you a great way to organize and recharge your Nintendo DSi.
Speaking of other cool Nintendo DSi finds — how about this DSi with the Hyrule emblem from The Legend of Zelda etched on it by marker, or Okamiden by Capcom, coming to the Nintendo DS in March 2011.