Band Hero Nintendo DS Peripheral
It's official folks! Band Hero is going to be on the Nintendo DS Lite, and with it comes the ability to play along with your favorite tunes on your portable video game player. The big news of course is not Band Hero itself, but the peripherals that come along with it. That's right, along with your Band Hero package, you will get the Drum Grip and the Guitar Grip.
With these awesome peripherals, you can play the drums to the tunes of around 30 songs including some huge artists like The Killers, Blink-182, Avril Lavigne and so many more. If you would rather sing along, then you can do that too. There is even a Guitar Grip that is available for the DS Lite.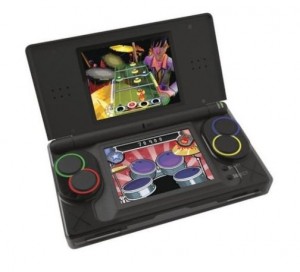 This is what the Drum Grip looks like. Essentially it is made of rubberized silicon, and this piece simply fits on the DS Lite so that you can feel like you are playing the drums, which is a bit better than just using the touch screen.
Unfortunately, like with the Guitar Grip, the Drum Grip too does not fit on the DSi, which is a bit of a draw back, but apparently it is because it doesn't fit on the system. If you are using a DS Lite however, the grip ensures that the pads of the drum slip over the face buttons and the d-pad to form a perfect fit, which effectively means a lot of fun. Another advantage of the Drum Grip is that it is bouncy, which means that you won't have blistered thumbs at the end of a particularly heated session of Band Hero.
Via: Kotaku