Princess Peach's Castle Nintendo 64 Mod
Very bored with all those totally outrageous and boyish Nintendo 64 console mods? Are you looking for something that is just out of the regular mods available in the market, are you looking for something that is cute and very unusual? Well this new mod for the nintendo console is based on princess Peach's castle right out of our old time favourite Mario.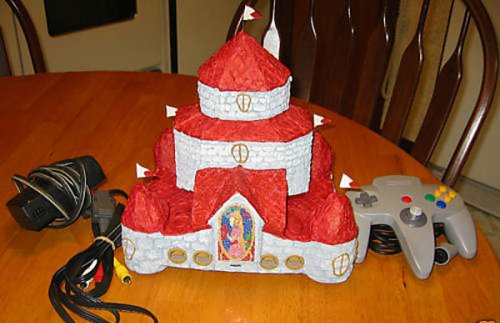 This new Nintendo Mod, which looks more like a cake on the outside but on the other hand it is very cute and stylish, a break from the usual type of console mods. The exterior of the mod is molded and then painted to look like bricks and tiles of the castle, but underneath all those layers of artistically created piece of mod lies the real deal, a fully functioning Nintendo 64 console. Also the mural of princess Peach is made of mosaic and it has five flags all made from cloth.
All the Mario fans out there might be really excited to see this up, the Princess Peach's castle on top of their own gaming console. To be honest I feel that a lot of hard work and effort has been put into this and we can soon expect Super Mario Bros. based mods to take over the market.
All in all this is sure a piece of art and something worthy of appreciation as it rekindles all the old memories!
Via:Slippery Brick