Green Zelda Pillow Covers
Remember the old time maze game Green Zelda? Well some one came up with the idea of making pillow covers themed upon the game. And guess what?  Sewing Punzie who did this particular job has very clearly pulled off a beautiful yet very useful piece of art that will be appreciated by gamers far and wide.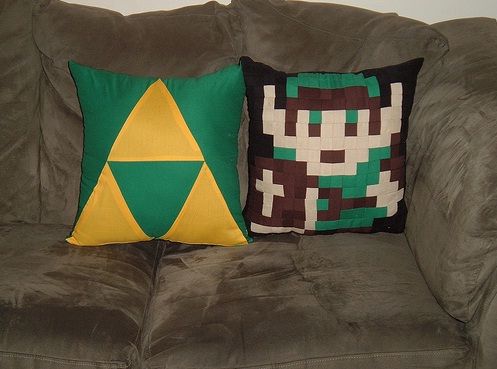 looking at the pillow covers took my imagination to a place where I would be laying on my couch playing my games and supporting me on the couch wold be these lovely Zelda pillow, and they would always remind me of my childhood days.
For all those gaming geeks out there who are currently looking for innovative ways to decorate their couches so as to have a total gaming atmosphere this might be something they could have a look at, after all it is very cute and also relates very well to the gaming theme.
I feel that some really cool artists out there might be coming up with many such innovative ideas and cool products like these to help us game up our lives. I am personally looking forward to such products as they are a break from the usual gaming stuff that people are so programmed to buy these days, of which not many are as useful as this one.
Other great Zelda creation we seen before included: the Zelda Dog and both the Zelda Wii Mod and the Legend of Zelda Wii.