Mario Kart Stop-Motion Animation Using 3D Chalk Art
Chalk it up to Chris Carlson for making this amazing stop-motion video of Mario Kart in the real world.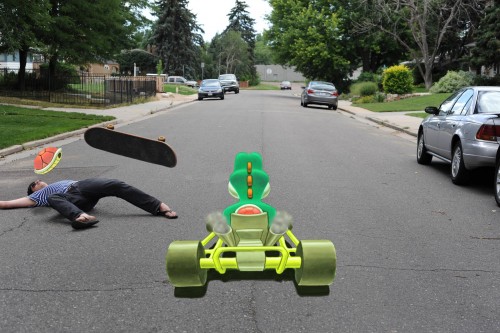 Nintendo achieved Mario Kart in 3D with the seventh installment of their popular Mario & friends racer back in 2011, but when it comes to Mario Kart in real life, awesome chalk artist Chris Carlson managed to get a step up on the company with his latest project.
Chris, as you may not know (or maybe you do know?), has demonstrated his boss chalk skills in a smorgasbord of videogame-inspired creations – be it the classic likes of Pac-Man, Space Invaders, and a eye-bending M.C. Escher take on Donkey Kong.
Never to disappoint, this time Chris used a simple 3D chalk image of Yoshi on his go-kart, and made a rather cool stop-motion animation of the rad dino driving on real streets (well, suburban streets), snaking around corners, and avoiding turtle-shell throwing skateboarders.
Turtle-shell throwing skateboarders, eh? I swear, kids these days. Them and their rap-music and twerking. Anyway, this video by Chris and his friends is impressive, in both motion and concept, and reminds us why go-karts, in general, are awesome things.
Be sure to visit Chris Carlson's website to see his full gallery of chalk portraits – they're amazing. And please follow WiiNoob for more gaming news from the world of Nintendo, such as details about the upcoming Link Between Two Worlds and which Pokémon are going to be in the next 3DS installment.