Bomberman Movie Trailer Will Blow You Away (If It Were Real)
Check out the latest (fake) movie trailer for Bomberman, a big screen adaption of the classic puzzle-bombing games from Hudson Soft.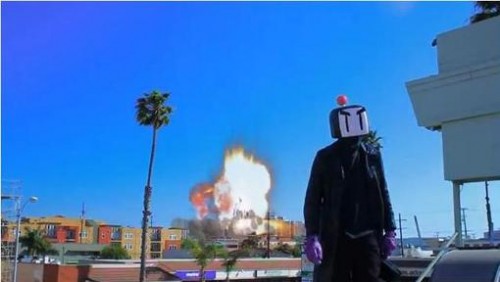 Move over Director Michael Bay, there's a new (fake) movie franchise in town and it spews out more thrilling explosions per second than any puny Transformer movie could ever dream of. It's called Bomberman, and its coming this summer to an alternate reality were awesome things like this get really made into full theatrical movies and Mario really did visit the final Space Shuttle launch.
Adapting Japanese developer Hudson Soft's famed puzzle series of the same name, this version of Bomberman has a whole new attitude. It's edgy, it's in your face. You've heard the expression let's get busy? Well, this movie gets biz-zay! Consistently & thoroughly – and before you ask, yes it's very proactive. I'm talking about a totally outrageous paradigm!
Indeed, this Bomberman no longer resembles the pastel kid-friendly looks of what we've come to know from the series, as the movie pits two Bombermans (Bombermens?) against each other on the gritty streets of today. The plot centers around a disgraced bomb-squad member Mickey Finnegan, who's shaky past has finally come back to blow up in his face, and as we seen in the trailer, parts of the city.
There's a building-demolishing terrorist on the rampage and he's not only watching the world burn, but also picking off bomb-squad members left and right. That's when Mickey puts two and two together, and realizes a past acquaintance is behind the recent bombings that has driven the city into massive fear.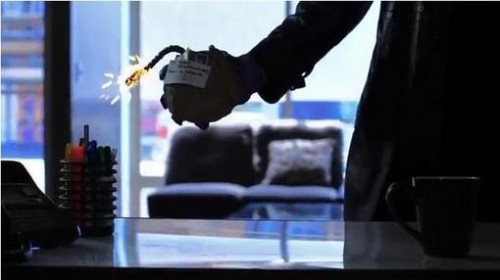 And to make matters super explosive, the menacing bomb-happy villain kidnaps Mickey's wife — leading to a battle of wits as the two former allies now turned enemies  go one-on-on. Can Mickey Finnegan put a stop to his former bomb-throwing cohort while saving the city? And will anyone else realize how stupid they look wearing those toaster-head looking masks?
You'll (won't) find this out soon once Bomberman releases, as the  co-directors of earlier (fake) hits such as The Brothers Mario, The Country Club, take you on a summer thrill ride you've never seen and probably won't!