Wiimote Mod Used to Control Grapplers
Wiimote is known to be used as remote controls for a number of things, and most of them have been quite unimpressive. However, an Aussie has gone ahead and connected a Wiimote to grapples that weigh 15 tonnes ad he just used Bluetooth and Python to help the Wiimote be able to control.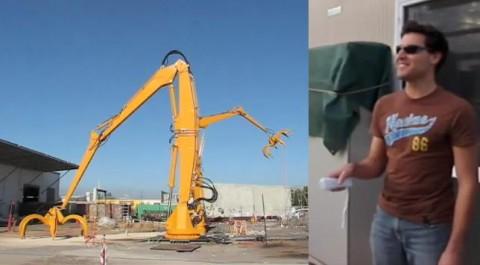 In fact, when you watch the video, you would assume that someone is manually operating the monstrosity, but the truth is it is the crazy Wiimote which is doing the job. Imagine construction workers being able to control the grapples with their Wiimote while the play games too!
I guess this would be the solution to kill monotony at construction sites and if the employers provide a free display and a console, there would be no question of construction workers being bored or tired of the work they do. If you look at the guy's joy when he controls the monstrous machine, you would know that it is not an everyday thing!
Wiimote has been similarly used to control a lot of weird things earlier but some people have taken the Wiimote a little too seriously that they decided to "eat" it up. The Nintendo Wii Gums are one such example which are sweet and can be chewed safely. Wiimote also seems to be a fashion statement with Wiimote Cufflinks and Wiimote Earrings becoming popular lately.
Via: Engadget