Nintendo Wii Gets A Price Cut Along With 'Nintendo Select' Games Coming Soon
Nintendo officially announces a price cut for their Nintendo Wii, along with a value line of Nintendo games.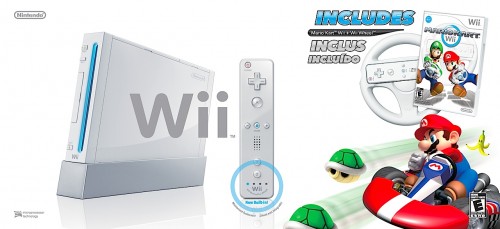 Patience is a virtue they say, and if the standard $200 price tag for the Nintendo Wii is still too ritzy for your tastes, then good news boys and girls, starting later this month the best selling gaming console ever is dropping in price.
This money-saving news comes weeks after when many of the U.S.'s biggest retailers (Target, GameStop, Toys 'R Us, and Best Buy) started to offer an unofficial price cut to the Nintendo Wii – down to $169.99. Meanwhile this official price cut goes even lower, chopping off twenty points, and setting at a lovely $149.99. Plus to add to value, Mario Kart and that silly Wii Wheel accessory that makes your arms tired after a couple of minutes of play time, will be the new pack-in game of choice (Nintendo's choice, not yours.)
But oh no! With Wii Sports gone from being a longstanding pack-in game, where will I go for my recreational semi-athletic waggle fun, you say? Well, don't worry your little Wii Remote wrist-straps, because it's soon to be featured as a "Nintendo Selects" game, which is a batch of budget-priced software from Nintendo.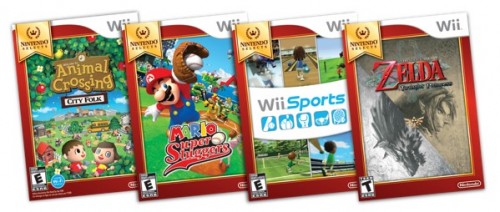 For a quite right $19.99, the first four titles in the Nintendo Selects catalog include the Wii Speak enabled Animal Crossing: City Folk, Mario Super Sluggers, the aforementioned Wii Sports, and The Legend of Zelda: Twilight Princess (haters gonna hate.) To easily identify the Nintendo Select games, all boxes will come in a fancy red-themed box and a golden seal in the left-hand corner – crown and olive branch in all.
Both the newly $149.99 Nintendo Wii and Nintendo Select games will be available side-by-side this May 15th; a day of great gaming savings galore indeed. Let's not forget that with the next Nintendo console coming around the corner, right now might be the perfect time to get that Wii collection a rolling (a list of future releases which you can find here) or instead snag up some sweet WiiWare games like Bit. Trip Fate.
Via: Wired