Wii Guitar Combo ezJam
Guitar Hero and Rock Band fans never had it so good, for the ezJam Combo for Wii lets you control both games. The ezJam Combo is a single guitar controller that allows a player to control either his or her favorite games. It comes with the state-of-the-art DC2 Dual Connect technology.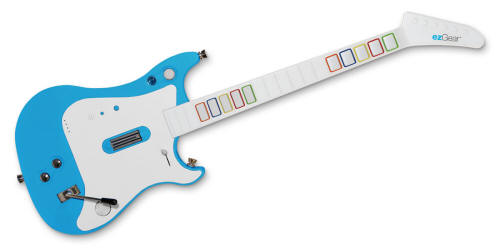 The SUPRA 10™ Fret Keys are ezGear's unique offering which allows any member of the family to use the controller, meaning even those with over-sized and hairy hands can easily use the controller without worrying about the smallness of the keys.
The ezSpring™ Whammy and Strum Bars allow synchronization and with every song the player will have a memorable experience. This solves the problem of having to buy two different guitars for the two games and also saves money and saves space. The neck strap and wireless receiver ensure the player's physical comfort is taken care of. What's more, the ezjam combo even supports RockBand Guitar effects.
If you do not play either the Rock Band or Guitar Hero, you could try checking out the Nyko Wand, which is a cool alternative to the Nintendo Wii Remote. Nevertheless, if you do play either of the above-mentioned games, it would certainly be a good idea to buy a single guitar to control them both. The ezJam Combo for Wii costs $69.99 and is quite worth buying.
Via: EZGear