Toad Mario Kart Cake for Super Mario Bros Fans
Cute endearing Mario, Luigi with their mushrooms, toads have won hearts all over the world and this good old Nintendo game is very popular even today. Little Mario and other characters of the game have inspired range of products and merchandise for Mario fans in geek households. Here Debbiedoescake has baked an awesome Toad Mario Kart Cake which looks more like a games collectible than an edible cake.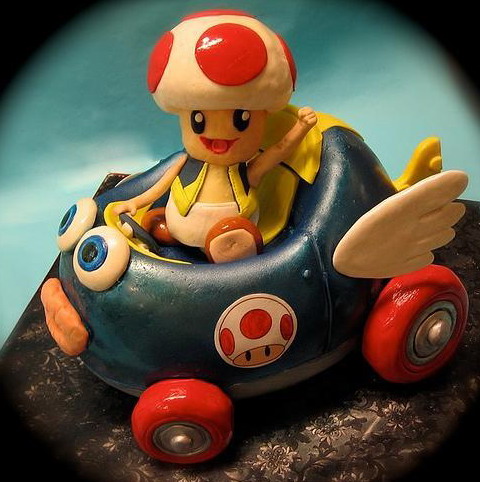 Baking a geek theme cake is truly a very difficult art and Debbie seems to have perfected it over time. The Toad looks very cute and the entire picture of Toad riding the Kart from the Mario Kart Double Dash looks so complete with wheels and Super Mario Bros logos on the cart that it is really difficult to believe this is a special theme cake.  Though it would be difficult to cut this cake and gobble up the little Toad but surely it must be a yummy in taste.  Kids will love these game theme cakes for birthdays and other occasions.
This special Toad Kart cake will suit any occasion and will even win awards at the cake competition. Do watch out Debbiedoescake page for new Princess Peach Cake pictures which she is yet to create. Well, Princess Peach's loyal Toad is already here so let us hope she will follow soon too.  Nintendo's Super Mario Bros are truly inspirational for all the fans – take a look at Mario Birthday Cake and Super Mario Bros Piranha Plant Cake created by fans.