Sweet New DSi Celebrates 25 Years of Mario
This is a sweet new DSi that will be carried exclusively at 7-11 stores. It celebrates Mario's 25th anniversary. The bad news? It's only available in Japan.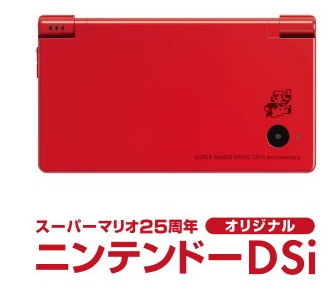 It goes for 14,800 yen, which is about $178 when converted to USD. That is 200 yen less than what the DSi usually costs (a little over two bucks savings). Still, it's a cool limited edition item that will be gone before we know it.
It may be hard to believe that Mario has been around for 25 years already. Some gamers who grew up playing the games may not want to think about that, because it only serves to remind them of how old they feel.
It's not all bad, those same people got to see videogames grow into something much larger than any of us ever could have imagined at the time. We just missed the Atari era by a hair, but were able to see the first console that truly became a household name and stuck around.
Years later, gaming has become a form of entertainment enjoyed not only by adults, but even a new generation of kids. It's great that they are, but all my 20-something friends have had the opportunity to see gaming evolve from little pixel-men with a color palette you could probably count on one hand into characters with realistic movements and expressions that are detailed down to each sweaty pore on their face.
Well, maybe that doesn't sound so beautiful when you think about it, but the magic is in the changes we've seen. We can also argue that many of the games we play today may not have existed otherwise. Metal Gear Solid creator Hideo Kojima has said in the past that the original Super Mario Bros. on the Famicom was the game that made him decide that he wanted to become a game designer.
Super Mario Bros. also helped propel the Nintendo Entertainment System into popularity in the US. This was at a time when videogames were seen as something if a fad that would quickly pass. Gaming machines like the NES helped change that perception.
Well, I don't live in Japan, so I probably won't be getting that DSi. I will be waiting for the 3DS while wishing I had a Wii cake, or any cake for that matter.
Via: 1up.com