NBA Jam Secret Characters Are On Fire!
If the phrases "Boom-shaka-laka!", "He's on fire!", and "From downtown!" mean anything to you, well then it's time to celebrate likes it's 1993 all over again, because NBA Jam is back! And with that, comes a collection of incredible secret characters to unlock.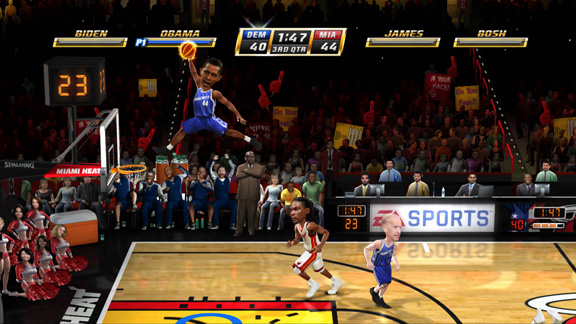 The new NBA Jam, releasing for the Nintendo Wii on Oct. 5th, and coming soon to PS3/360, has been long in the making. Its been over ten years since the original action-arcade basketball series was introduced to arcades back in 1993, and became a "Monster Jam!" for now-deceased developer Midway.
Following iterations of NBA Jam, while still having their fair share of fans, would never quite have that same magic the first game had. Perhaps too many versions of the game, as well as the arcade scene falling apart in the mid 90s, put "The nail in the coffin!" when it came to series interest.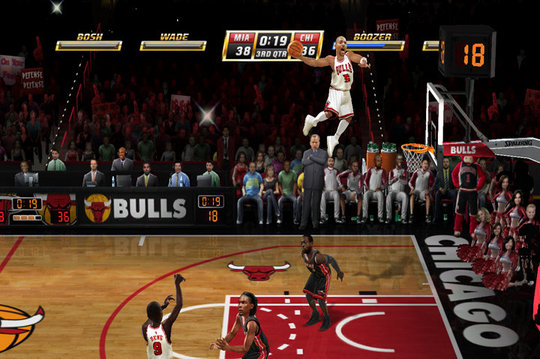 Graciously, it would take EA Sports to revive NBA Jam to high-definition relevance. Bringing back classic two-on-two fast paced basketball action, but with modern big name pro b-ball players such as Kobe Bryant, Lebron James, and Dwight Howard. EA Sports even brought back another favored element that existed in the original: hidden characters.
For those who don't fully remember, by entering initials or pressing a specific set of button commands you could unlock hidden characters in the game. Some unlocks would be mascots for specific teams like Benny the Bull from the Chicago Bulls, the Phonix Suns' Gorilla, and etc. But there were also crazy characters like President Bill Clinton or The Beastie Boys.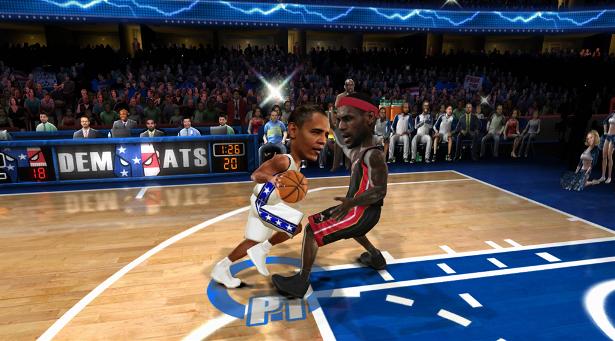 Keeping with tradition, the new version of NBA Jam has some "Razzle Dazzle" of it's own. Recently, Trey Smith, creative director for the game, talked to ESPN.com writer Jon Robinson about the hidden characters included (full list provided by GoNintendo), even revealing that our current Pres. Obama, along with this V.P. Joe Biden, would be in the game.
But the political infusion of characters doesn't stop there – I'm talking Red vs. Blue, and I don't mean those Halo Internet cartoons. Also featured in NBA Jam are Arizona Republican Senator John McCain, and his famous running mate from the presidential election of '08, former Alaskan Governor Sarah Palin – beehive hair, glasses, and all.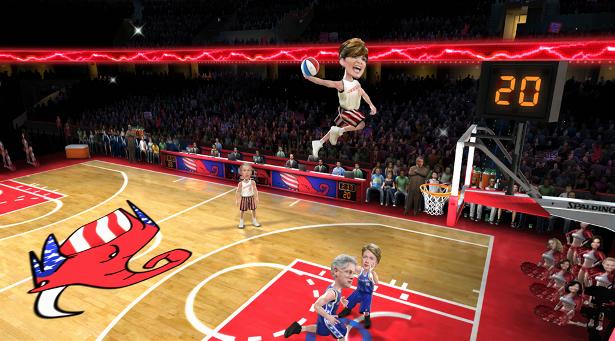 You want more funny inclusions? How about former President G.W. Bush, and his Vice Pres. Dick Cheney. Or for more way-back machine silliness, Bill and Hillary Clinton, and former Vice Pres. Al Gore. Boy, talk about ""Tenacious D." (Get it, cause D can stand for Democrats, hehe!)
Trey Smith also confirmed that The Beastie Boys would return to the game too, but even more mysteriously, hinted at one more secret character that he couldn't talk about, saying that players themselves would have to figure out who that last hidden character was.
While your here at Wiinoob, check out this sweet new Nintendo DSi, or this life-size Samus statue!
Via: ESPN.go.com The Gamer Blog and GoNintendo