Now Super Mario is on your Macbook
It is always really nice to have your own personalized touch on your own gadgets, and so redecorating laptops also is a lot of fun. Now if you own and Macbook and are a Super Mario fan, then this Baby Mario and Yoshi Vinyl Decal is for you. This vinyl decal looks really nice and can be easily removed without a trace. And even if you are not a Mario fan you can still have this black vinyl decal that LapTatt has created, since it looks cool while it has a very simple design of just the baby Mario figure, the hungry Yoshi, and the shining white apple.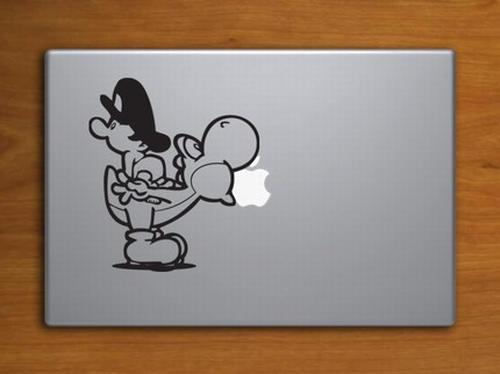 This Baby Mario and Yoshi Vinyl Decal, comes in matte black and is made especially only for Macbooks. It has a 6.5″x7.5″ dimension and fits Macbooks of 13″, 15″ and 17″ sizes. It will also be available in white on special request. It is available for $14 on Etsy.
If you are interested in more Super Mario Bros. products then you should take a look at the Super Mario Bros. Bandages and the Super Mario Bros. Wall Graphics Decals.