Super Mario Bros and Zelda Apron for Geeks Who Love Cooking!
Cooking is indeed an art and for those who don't like cooking there is no worse nightmare than putting something on platter every day. Retro gaming fans will love this Mario and Zelda Apron featuring Mario's power up punch, it will surely give them much required energy to beat the daily drudgery of cooking.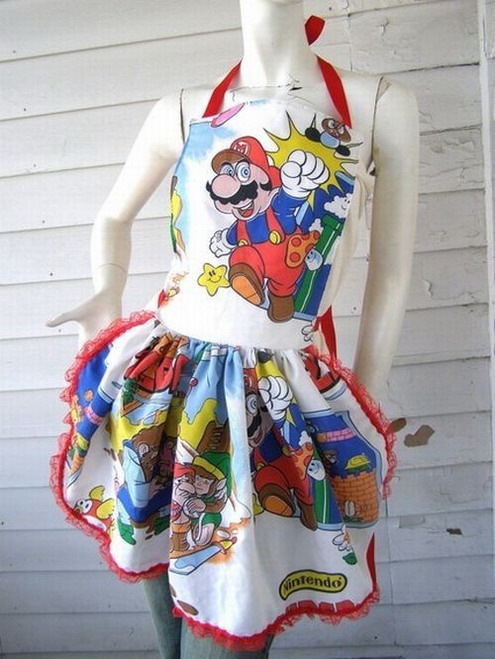 Retro games characters have been invading homes as product designs and now they have invaded kitchen too.  Super Mario Bros and Legend of Zelda game characters seem to be very inspirational and they will boost mental energy and bring more cheer to the geek household. This Mario Bros and Zelda Apron may seem too feminine but geeks are rarely gender conscious for in the virtual gaming world all that matters is the power to beat the evil intentions and survive. Get this awesome apron from Etsy and let Super Mario Bros and Zelda cast a magic spell and make you cook mushrooms to begin with!
True geeks will feel like lost souls in real world without presence of these gaming characters, logos, icons around them and may that's why these designs enjoy such immense popularity. You can also wear Super Mario Armbands along with the apron and turn A Radish into Super Mario Mushroom. Have fun cooking up special holiday feast for family and friends!
Via Kotaku