Super Mario Bros Dress Up Sets for Awesome Twosome Siblings
Super Mario Bros games gave the world two awesome siblings Mario and Luigi, who always stuck together in all challenges that came their way while saving the Princess. The endearing pot-bellied mustached shorter Mario and slightly taller Luigi have inspired range of products and even line of clothing and fashion accessories. Here are Super Mario Bros Dress Up Sets for geek siblings for next Halloween or upcoming geek games themed party.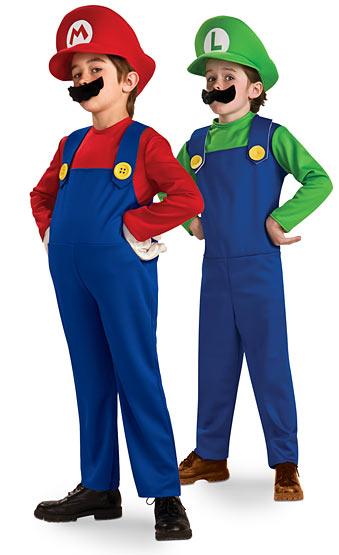 The Super Mario Bros Dress Set consists of two red/green jumpsuits, a slide-in potbelly, gloves, hats and mustache.  It is ideal set for two geek siblings who like to dress identically or even two close friends can slip into these for some fun.  Obviously there will not be any arguments about who will dress up as Mario and who will be Luigi; the shorter one by default will be the coolest plumber Mario. The dresses are custom made in three different small, medium and large sizes depending on the toddler heights.
One need not wait for Halloween or any other suitable occasion; just order these terrific costumes right away for $35.99
and have some fun dressing up your geek kids as Mario and Luigi. Gaming freak kids will love to become Mario and Luigi for a day to rescue their imaginary princess in distress.
If you have a pet dog then maybe you can get this Super Mario Pet Dog Dress to go with the Super Mario Bros mood or if its a birthday party then maybe you order  Mario Bros Birthday Cake.