Introducing The Supaboy: A Portable Super Nintendo From Hyperkin
Newly announced by Hyperkin, is a portable version of Nintendo's well-beloved Super Nintendo console launching in the Summer.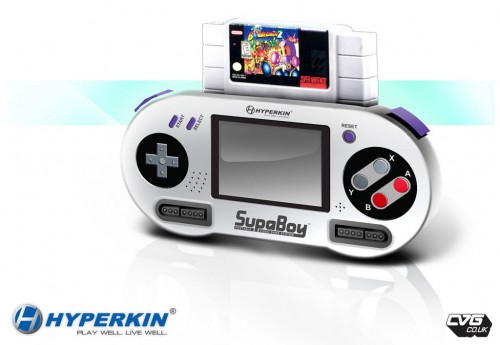 By name alone, the Super Nintendo (Super Famicom in Japan) is a video game console that is totally upfront and honest about its intentions. What you see, or this case read, is what you get – a fantastic piece of gaming hardware with both the inherent qualities of the original industry-revolutionary Nintendo Entertainment System, and superior graphical and sound processing performance.
Now thanks to Hyperkin, a video game peripheral manufacturer, the classic 16-bit console can now be enjoyed on the go with the introduction of the cutely named and SNES controller-shaped handheld, the Supaboy. Just as adorably clear-cut as the name of the game system it's based on, the Supaboy is a portable Super Nintendo that can play both North American and Japanese released (meaning Super Famicom) games. Sweet! Now there's another way for gamers to play the only good Back to the Future game that was never to be released in the States! Hooray!
In a way, the Supaboy is very reminiscent of the Sega Nomad, which was a portable Sega Genesis (MegaDrive in Europe/Japan) that ultimately failed because of its cinder-block size and terrible battery life. Thankfully, the Supaboy has none of those problems, because not only does it weigh in at a pleasant 11.2 ounces, but also has a rechargeable battery that clocks in around five-and-a-half game play hours on a single charge.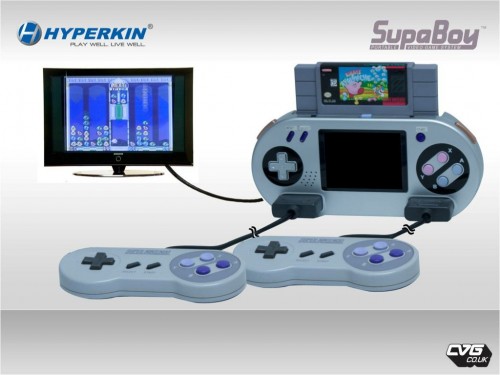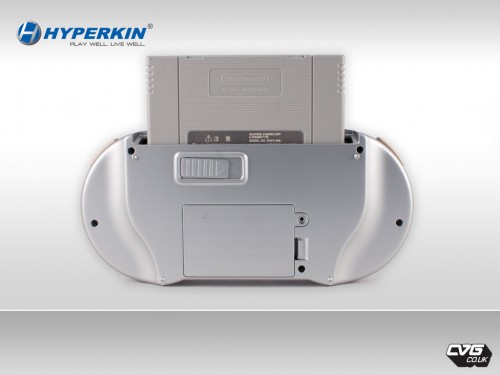 Both stats will be of great addition to the Supaboy's 3.5 inch LCD screen, but if need be there is also the option of playing on a bigger screen by means of an A/V stereo-out plug. Plus, for some friendly competition in a game of old school Mario Kart, the device even allows for two classic SNES controllers to be plugged right in. Of course, the only apparent downside to the Supaboy is the freaking game cart sticking up out of the system that kind of kills the whole point of being a portable device in the first place. Although, if the format your games came on were as bulky as the SNES game cartridges, well I sadly doubt much could be saved in the name of form factor.
Currently, this SNES on-the-go device is still in the prototype stage (kinda like the new Mario trailer that was shown at SXSW,) but has been confirmed by Hyperkin to be releasing in North America sometime in summer. Maybe if you've already found all the Easter eggs that the Nintendo 3DS has, you can check out this neat little portable.