Power Up Mushrooms of the Super Mario Game
If you are a gaming fan, then you would know that every single detail of what you see on the screen as part of the game makes a huge difference to the gaming experience. Hence, most game designers put a lot of effort into designing these details of the background. In those games which have been around for a long time, you can see these details improve and evolve as the game evolves. The power up mushrooms in the Super Mario game is the best example of this evolution, brought by Jonathan Ball.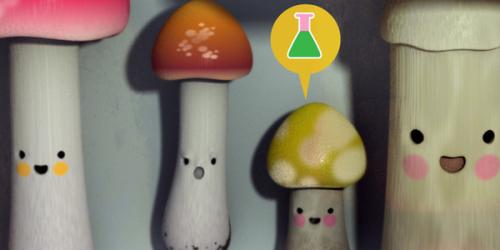 In the earliest editions of the Super Mario Platform games the power up mushrooms used to look like simple but colorful traditional mushrooms, whereas the latest edition of the Super Mario Bros. Game shows how these mushrooms have been redesigned and look awesome. Take a look at how cute these power up mushrooms look…
Starting from the left there is the stink/poison mushroom, then comes speed, anger, cure, strength, confusion, agility, grow, and death mushroom. All these mushrooms look really alive with a stubby base, a cute top and a befitting facial expression based on their powers.
If you are looking for more in Super Mario Art then you should take a look at the Super Mario Paper Automata and the Super Mario Cake.