Piranha Plant And Octorok Crochet Dolls Are Cute
The Piranha Plant and the Octorok are here in cute crocheted avatars, and this is definitely a welcome change from their scary 'game' renditions. The Octorok, in particular, is cuddly and doesn't spit rocks like in the game.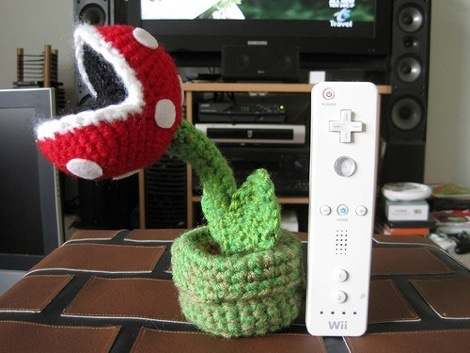 However, if you are keen on replicating the original, you can get the rock affixed or removed from the orb-hole and feign fear. The Piranha Plant on the other hand, has craftsmanship written all over it. The crochet work is immaculate and we can't help mentioning the fact that it is as close to the original as practically possible. If it isn't for the obvious 'soft' appearance, one could easily mistake it for a screen capture.
The Piranha Plant and the Octorok crochet designs are now featured on EnemyAirship and are available for $17 and $18 respectively. Oh, have we forgotten to mention the nimble fingers behind this fabulous work of art? Mindy is a lover of arts and crafts, and we certainly can vouch for it and so would you, if you have taken a liking for the adorable Octorok and the Piranha Plant.
For more game characters inspired artwork, check out the Green Zelda Pillow Covers and the Metroid Dolls.
Source: Spritestitch