Nintendo DS Cover (NSFW)
The Nintendo DS handhelds are quite popular amongst all gaming fans and Nintendo has always tried to stay 'family friendly'. But all gamers eventually shed their acne and grow up to be young men who still love Nintendo while loving other things as well.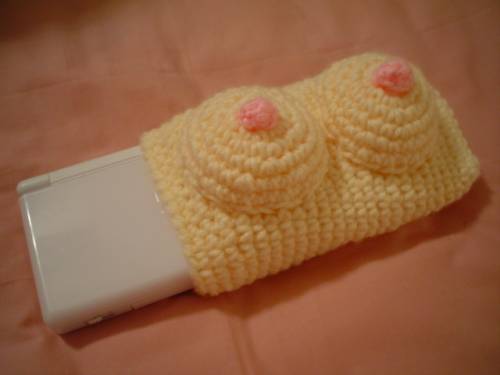 This Nintendo fan has taken his DS and mixed it with another work of art making this little gadget probably the most wanted handheld amongst his friends. Cheekily, he or she (let me not be sexist!) has decided that to get the most fun out of anything, something more should be added to it. And that is probably how the wool cover of this DS grew two well-shaped tits!
The NSFW cover by Astroberry just goes to show that young men with raging hormones need to declare to the world that just because they still stay loyal to the world of gaming doesn't mean they are still little boys. After all, everyone is entitled to enjoy the benefits of two very different worlds. Humorously, the cover also seems to announce the entry of girls into the gaming world.
Though slightly risqué, the tit cover gives the NDS an audaciously sexy look. If this had been a mod instead of a cover it would definitely have featured on our list of the 28 geekiest Nintendo DS Mods.