NES Collection of #1 Nintendo Fan
Every NES fan has their own way of attempting to prove that they are the No. 1 fan. Mostly, it comes in the form of body art or Nintendo art. This fan takes the crown by showing off his NES gaming collection; it turns out he owns almost every Nintendo game ever made!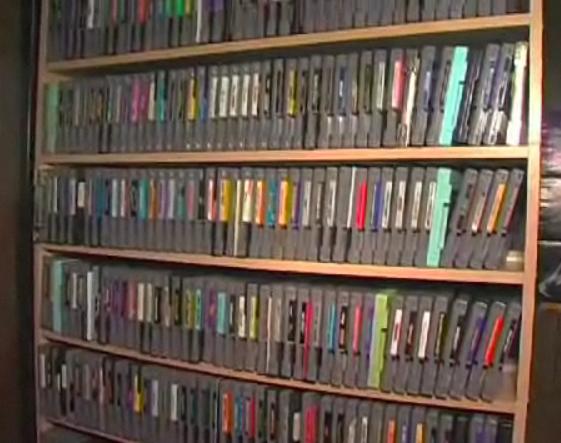 Attaining all the games wouldn't be an easy task but when it comes to the official Nintendo cartridges, it is easy enough. Things get tough when it comes to getting the unofficial games that have been released without Nintendo approval but he has those and even some more which are so off-track that the games cant even be found in the NES library. The only games this fan may not get his hands on, ever, are the really rare ones which haven't been commercially sold.
Owning so many games that it fills and spills forth from his shelves leads him to stack them up in alphabetical order and he complains humorously about how difficult this seemingly simple task is, then goes on a tirade about how badly his beloved collection was previously treated by video game shops, which is quite understandable especially when he shoes you a sticker about 'rewinding the tape'. Eh?!
Many games in the fans collection is made up of games sent to him by other fans. He seems to have everything, but I bet even the No.1 NES Fan doesn't have the NES Controller Soap and the NES and SNES Console Combo.
Via: WiiNintendo