Amaterasu From 'Okami' Cosplay At Otakon 2011
It's a costume that's doglike! Check out one fantastic cosplay of Amaterasu from 'Okami' by a lovable dog.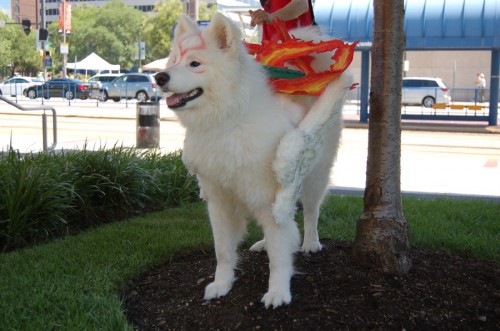 Sure the act of cosplay might be, at times, a long meticulous task for the person involved in such masquerade hijinks, but what about trying to do the same for a pet? Owners of a super cool dog, named Dante, put their loyal pooch's patience to the test by costuming him as the wolf goddess Amaterasu from Okami — which turned out wonderfully!
Dante and his owners, who I'm certain are gamers themselves with brilliant taste in videogames no less, spent the weekend at Baltimore, Maryland's annual be all and end all of Anime conventions, Otakon. Where at, I'm sure once Dante came out in full wings and make-up, became the star cosplayer at the show!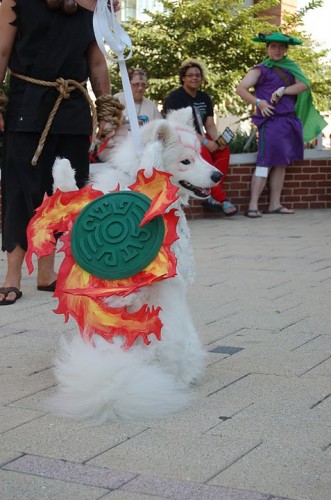 Sorry all you Narutos and Chun-Lis, take a back seat to Amaterasu-Dante, who is just too awesome and cute to compare!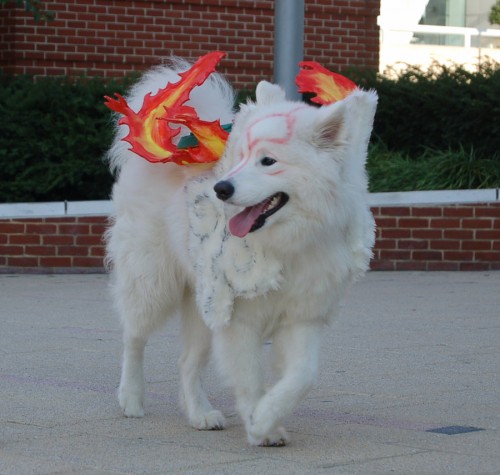 And to think we wouldn't have such pictures if not for Dante's parent's decision to go against leaving their beloved Samoyed at a boarding place for five days. Instead, with much joyful begging from friends to bring along their dog to Otakon, Volkodav (the genius behind Dante's costume) concocted a do-it-yourself get-up for Dante, of the four-legged Okami protagonist, using construction material like hard foam and fabric.
Best of all, Volkodav made sure to jot down all steps to the build process for anyone else that whats to try their hand at transforming their own dog into Amaterasu (oh oh oh! how about a chibi-Amaterasu? hmm?) which can be found through the link below.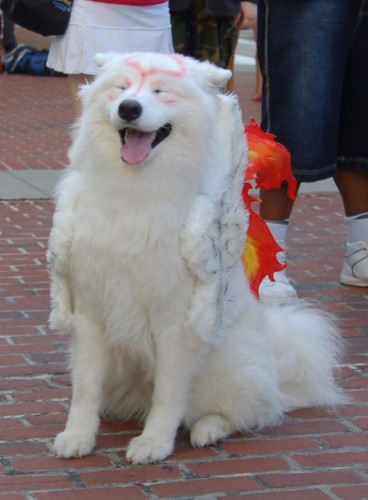 A fair and sensible warning though as suggested by Volkodav on his Practicalevil site — "I do not recommend trying this with a cat." Wise words indeed.
Wise words would also go along the lines of waiting til August 12th to buy a Nintendo 3DS. That's when Nintendo's latest handheld drops in price down to $169.99.
All photos courtesy of Volkodav
Via: Practicalevil