Skyward Sword Bundle Includes Gold Wiimote Plus & Zelda 25th Anniversary Concert CD
On November 20th Nintendo drops from the skies this Legend of Zelda: Skyward Sword bundle, including a special Wiimote and a music CD from the Zelda 25th Anniversary Concerts.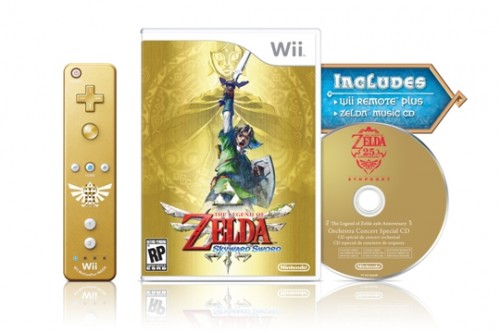 There must of been a sale on gold spray paint recently, because for their Legend of Zelda: Skyward Sword bundle Nintendo went a little overboard with it like a toddler at a crafts table, as you clearly see above. I guess they got a tad excited in the rush of things, what with it being the 25th anniversary of our beloved Link.
It's cool though; I feel their excitement too just by looking at the thought & consideration that's going into this $69.99 retail package, which is dropping on the same November 20th release date as its stand-alone software counterpart. Apart of the Skyward Sword bundle, is a copy of the game and a limited-edition gold Wii Remote Plus, an absolute must peripheral.
An absolute must because without it you can't play Skyward Sword. Of course you should know this already if you read previous stories about the upcoming Nintendo Wii title, here on WiiNoob.
Ahem. But wait, there's more! You also get in this bundle a CD of live performances from the upcoming Zelda 25th anniversary concerts going on across the nation starting next month in Los Angeles. Nintendo, in their benevolent hearts though, is also including this wonderful audio sampling in regular editions of Skyward Sword, but only in initial print runs of both versions – so first come, first serve!
Via: Nintendo