Metroid Dolls Look Bright and Colorful
If you have been enthralled by all the adventures of Samus Aran while she tries to retrieve all the stolen Metroid creatures, and the way she handles the bad Space Pirates, here is a surprise for you. Oddgumi has designed and revealed some really beautiful Metroid dolls, which have been knitted like the Piranha plant and look warm enough to brighten even the most melancholic of geeks.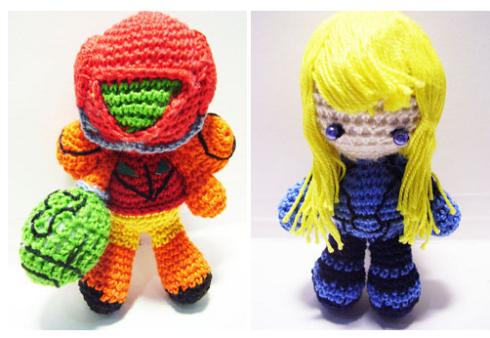 The Varia Suit doll has red, orange, green and yellow predominantly and looks ready to kick some ass. The Samus Aran doll comes with blonde hair and blue dress which makes her look very pretty. However, you would of course know that in spite of all her prettiness she can not only kick ass but also grab all the baddies where it hurts them the most. The collection also includes interesting Alien Dolls which unfortunately look quite shapeless to me.

They seem like they are reaching out to the buyer or viewer to be picked up and cuddled. That is certainly something that I would not expect form a blood thirsty alien. If you were wondering whatever happened to the Metroid balls, Oddgumi has not forgotten them and the orange Metroid Ball looks bright enough to make sad hearts bright and happy. These dolls from Metroid collection are simply awesome and would be great gifts to Metroid fans.
Via: Sprite Stitch