Let Mario Hold Your Nintendo DS
Here is Super Mario 12-Inch Nintendo DS Holder Statue to keep your Nintendo DS.  Mario statue looks like a true collectible itself. Mario fans will surely love to have this cute 12 " Mario statue to hold their Nintendo DS.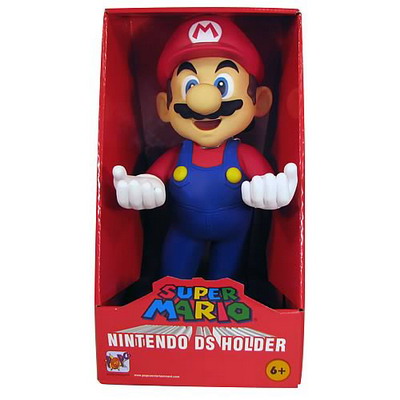 Super Mario Bros tale in the popular game is not just about Mario. The whole game can indeed be made to come alive with such statues of mushroom, princess and all. They will make nice collectible items too. Here Mario statue is of course not just for display but has utilitarian side too. With two arms stretched Mario seems all willing and keen to hold Nintendo DS. You can order your statue for only $29.99.
Isn't it amazing that such geeky games should inspire items like this Super Mario Statue holder or Super Mario Bros DS Pouch? If you are interested in collectibles you should try Super Mario Bros Matryoshka Dolls Set. You can really tell the world that only Super Mario Bros is on your mind!