Mario Mushroom 4 GB USB Thumb Drive
Super Mario Bros fans would love to carry extra mushroom magic power with them. The 4 GB storage Koopa USB Thumb drive with stylish shroom at one end will give extra storage power to the Mario fans and geeks.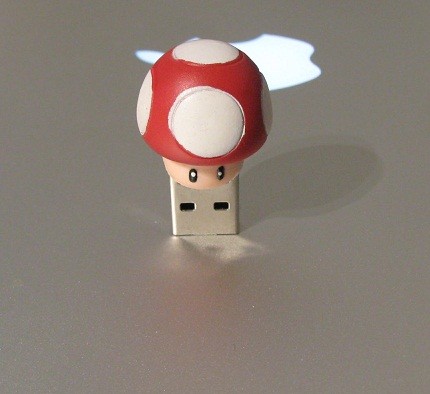 In a way USB thumb drive gives similar magical powers to gamers and geeks as consumption of mushrooms gives to Mario for rescuing the Princess Peach. The portable thumb drive with 4GB storage is almost a mini portable hard drive that one can carry around. Geeks and gamers can store a whole lot of games and information and carry it around in their pockets to plug-in any system or gaming console to unleash and show off their gaming power.
One needn't hide this cute thumb drive in pockets or bags as it comes with a key ring attachment so one can really show off one's geeky style and thumb drive power too. Just order one of these cute accessories right away!
Mario Bros mushrooms have inspired many designs from Super Mario Bros Mushroom Tins with candies to Super Mario Brothers Mushroom Bed Pillows. But this design for thumb drive is the geekiest of them all.