Link of Zelda Is Dead
Legend of Zelda fans will be shocked and pained to know that the great warrior prince, Link, has finally fallen! Link must have been on an especially secret mission because it turns out that no one knew where he had been and what misfortune had befallen him. It doesn't look anything like Hyrule but Link's appearance here is enough to convince us that this mysterious place has some connection with Zelda and also the dark forces.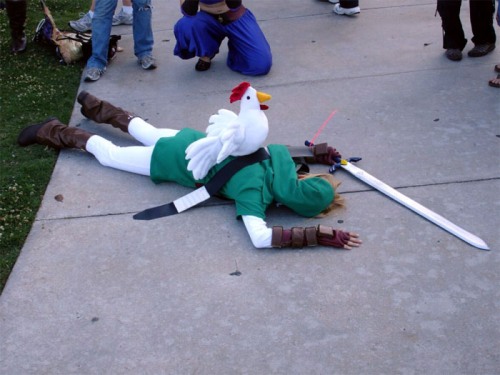 The only information that the legend's followers have right now is proof of his death: this sad picture of Link, armed in all his resplendent glory, face down on the pavement and obviously very dead. How sad for Link to be found this way with the mad and disrespectful paparazzi taking photos from every direction.
Obviously Ganon got to Link while he was searching for Zelda, or perhaps Link was actually on the verge of killing the Prince of Darkness when he was overpowered, probably with some dark magic. A cute chicken proudly sits atop the fallen prince, but don't be fooled by its innocent features; I believe the chicken is Ganon in his new beast form. Ganon must have finally realized that his ugly and evil appearance makes him stand out among crowds and decided to get a makeover.
Had Link been in the Zelda Car that we had featured earlier, he may have been able to get away. Wipe away your tears, loyal fans. This photo may be false information by Ganon to mislead us; even if dead, Link shall surely arise again! And for those of you who truly can't get this image out of your head, don't worry, it's just another Zelda fan taking a comfortable nap in his Link costume and with his faithful fowl sidekick warming his back.