Legend of Zelda Cake is Mouth Watering
While Link continuous his journey to save Princess Zelda, he surely would encounter more number of threats than any of us ever would. Hence he needs the shield which protects him from such evil threats and helps his to carry out various missions to save the beautiful princess.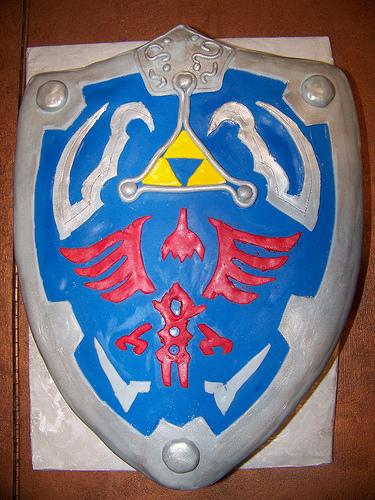 By Me Treats have just baked a cake in honor of that wondrous shield as had been requested by a customer. The cake comes complete with those strange scripted letters and the emblem etched into the body with icing.
The bright red, turquoise blue, yellow and the gray make the cake look less tasty and more metallic. In fact, the cake reminds me of certain 'trophies' given out in schools where they are usually made brighter in order to please all the kids. Nevertheless, this cake certainly looks interesting and if you are a great fan of the Legend of Zelda, you would certainly love it. You could go ahead and choose from a variety of cakes available on their official website.
There seems to be a primal relationship between gaming and cakes. Take for example this yummy Nintendo Wii Mii Cupcakes. Of course, one can't forget about the tasty Super Mario Cake and Super Mario Brothers Cake either. This makes one think of geeks also have a double life as bakers, as they either play games or bake cakes!