NES Keychain is a Throwback to the Old Skool Gaming Days
Synthetic Poetic has just designed a cool NES Keychain which comes with NES inspired miniature gadgets that hold the keys in a bunch. You could take a look at the controller and the console which gave the previous generations all the geekish pleasures that they could ever dream in their limited surroundings. One must remember that NES was perhaps the most entertaining thing that was around during the nineties.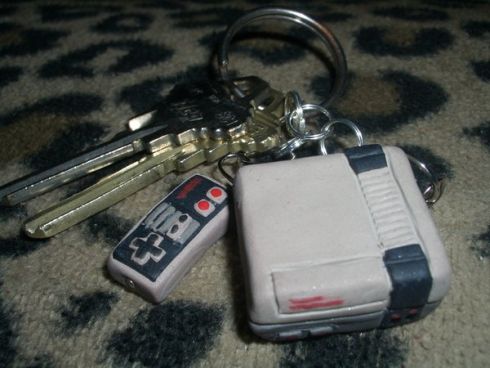 This keychain only pays homage to a distant relative. The NES Keychain was allegedly criticized for seeming as though the creator was super drunk at the time of designing. The artist however feels the boyfriend can s**k it. There is no information about the designs availability and though I must say it is not the perfect NES Keychain accessory, it certainly looks cool and would make you stand apart.
NES has always encouraged artists and designers to come up with new innovations and creations which would actually make modern gamers go green at the simplicity and minimalism evident in the game and is characters. You could opt to carry all your cash and the keychain mentioned above in a NES Console Purse. The Retro NES Earrings may be a cool way to spend your money. When you are tired of it all, you must just get an NES Pillow and lay your tired head to rest.