A Great Use For A Marker — A Hyrule Emblem On A Nintendo DSi
Zelda style nicely emblazoned on an ordinary black Nintendo DSi – all thanks to one crafty and sure-handed artist on the World Wide Web.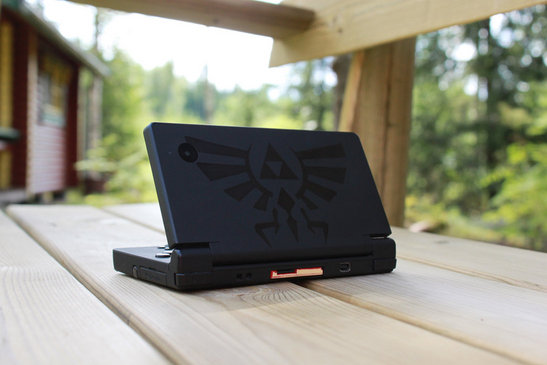 When it comes to illustrating or drawing anything that has an ounce of natural talent in it – I'm average at best. Sure with some luck, I can trace my favorite web comics and draw a mean stick figure, but mostly I leave the drawing to talented individuals — people such as DeviantArt member Ritariassa.
All the way from the wintry nation of Finland (where I'm pretty sure Santa Clause lives), artist Ritariassa has recently put a sweet personal stamp on his Nintendo DSi, recognizable to any average-aged gamer who's ever picked up a Nintendo console: the Hyrule crest from The Legend of Zelda series.
Now this emblem pinned on Ritatiassa'a Nintendo DSi isn't a sticker bought from an online store, though it looks mighty good enough to fake as one, but rather a drawing inked by your standard permanent marker. How impressively cool.
Just imagine the hand skill and absolute patience drawing a gaming iconic symbol, on top of a lid to a Nintendo DSi, has to involve. Especially on your own portable gaming device. One little mistake, one wrong shake of the hand while drawing, that annoying neighbor from across the street blaring his stereo system, and whammo – bye bye masterpiece.
Thankfully Ritariassa was able to pull through with his Nintendo DSi ode to The Legend of Zelda series, and we now have this picture to fawn over all nerd-like.
Ritariassa mentioned on their DeviantArt page, where he posted this picture of his accomplishment, that he might possibly add gold paint to the crest to make it stand out more on the Nintendo DSi's outer shell.
I kind of hope he doesn't. I really love how subtle the design is, and how it looks stylish enough to carry around in public. Plus gold is so last year — it's gunmetal gray.
For other artful applications on this site, check out this fantastic looking train celebrating 25 years of Mario goodness, or this sweet Super Mario Bros. painted room.