Donkey Kong Country Returns Papercraft Will Make You Go Bananas
Cut and assemble your very own Donkey Kong Country Returns piece of paper art, with a free papercraft by Desktop Gremlins.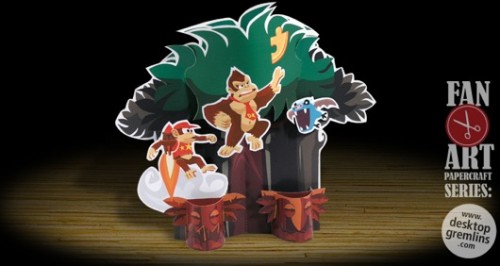 Paper just doesn't get any respect sometimes. Often it is just wasted on making paper airplanes, playing mini-football, or squashed disgustingly into spit-wads to be shot at the back of people's heads, when instead, it can be used to make some really awesome-looking stuff, like papercrafts – mini-sculptures created entirely out of, well, paper. If you don't believe me, then take a look at this sweet papercraft featuring the barrel-throwing banana-eating duo of Donkey Kong and Diddy Kong (seen above.)
Jumping out into the real world from a scene straight out of the recent Donkey Kong Country Returns for the Nintendo Wii, this Donkey Kong and Diddy Kong papercraft captures the pair perfectly as they're about to take on the jungles greatest foes – all while arbitrarily killing themselves for hard to reach puzzle pieces, letters, and red balloons (hmm, I guess with no Wi-Fi access on a jungle island, you got to do something to occupy your time with.)
This wild paper masterpiece was created by Desktop Gremlins, a soon to be released book filled with unique papercrafts that readers can build themselves. The book, which first was planned out as a website to share and create papercrafts, features 25 simple-to-make paper toys that require no sticky adhesive to fuss with. The only things you will need, is a pair of trusty scissors, some free time, and an eagerness to build something fantastic.
So, if you're up to the task ( like you were when you found all those Nintendo 3DS Easter eggs,) Desktop Gremlins has graciously provided a PDF document on their website to download and try your hands at recreating your very own Donkey Kong and Diddy Kong diorama – which I might add might be easier to pull off than beating the actual game (oh yeah, I went there.) It might also be a good time waster for while you wait for your Nintendo 3DS to actually charge up.
Via: Desktop Gremlins