Go Ape over the Donkey Kong Collectible Figure
If there was any gorilla more famous than King Kong then it would have to be Donkey Kong. Who cares if he got stuck with a name that makes him sound like a hybrid animal; Donkey Kong is still one of our most favorite villains.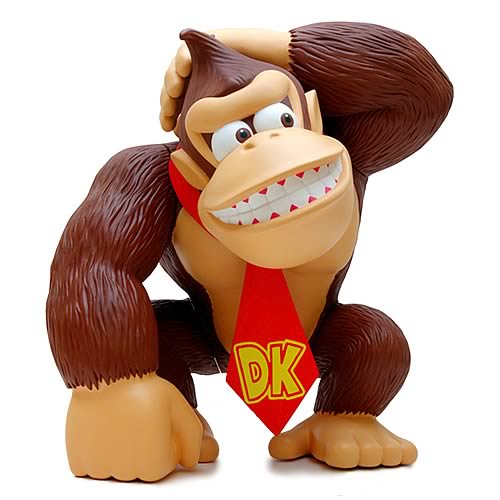 Abducting pretty ladies, fighting heroes and downing bananas within seconds while swinging from vines, Donkey Kong does it all with aplomb. No matter how much we refer to him as the villain, we can't deny the fact that he's so much cooler than Mario. This vinyl figure of Donkey Kong is the best thing you can get yourself this month. Just look at those lovely brown eyes and his Aw, Shucks expression and ask yourself if you can deny him a bunch of bananas?
Take him home with you and you don't even have to worry about getting him house-trained. Donkey Kong may have been living in wild jungles but he has evolved over the years and looks dashing in his trademark red tie. The grinning 12 inch collectible is all yours for only $28. Don't be fooled by his innocent look, though; he'll still run away with your girlfriend if you get on his bad side!
Other cool ways we seen Mr. Kong were as the Donkey Kong Candy Dispenser or the Super Smash Bros. Brawl artwork.