Calculator Gameboy Will Help You To Overcome Your Snoozes During Math's Practices.
When it comes to calculations, trigonometry, square roots blab la, one thing always comes in handy is a Calculator. I really thank Blasé Pascal, the real person behind the invention of calculators who had created it to help his father with his work of calculations of taxes. This shows he was one dedicated kid. Going back to calculators, after Pascal's invention in 1600's, slowly much more advanced calculators started coming up in the market. Now a day you even will find digital calculators which can do calculations up to 10 decimals and calculate your whole Mathematics book in a jiffy.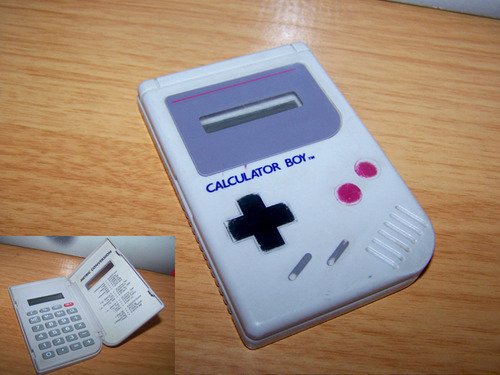 Here is one calculator which not only looks awesome but is quite a surprise for all the game boy freaks, "The Calculator Boy", which looks like a game boy but is a calculating machine. I wish it can be a game boy cum calculator but it's alright, at least the look is there. It's a mod which is fit for all the mathematics freaks and gaming geeks.
Even though it is no scientific calculator to calculate all cosines and stuff but this traditional calculator has one advantage. It's look, which psychologically affect our mind because no one would get bored on seeing a game boy other than highly qualified nerds. So, for average human beings, this game boy cover convinces our mind to show it that this calculator is a non-boring device and thus it will also help us to solve math's without dozing off. I am just waiting for it to get released on market so that I could do my calculations without snoozing in the next minute.
You can see some more such interesting mods of various devices like Wii Ankle Nintendo Mod and Wii Balance Board, which may catch your interest.
Via : Slipperybrick.com