Even Bacteria Find Super Mario Very Irresistible!
When our gaming life begins to synchronize with our real life, this is when things begin to get interesting and we begin to enjoy life a bit more irrespective of the troubles and pain we are going through, and it seems that this very same fact is applicable to microbial life forms as well; and a living example of the same is this cool bacteria which found Mario so irresistible that it rearranged itself into a form that needs no further description!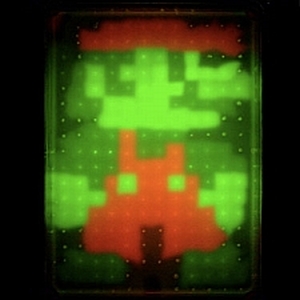 "The NES Mario Sprite", as it has been named, is a creation by the gaming inspired scientists at the Nano-biology Laboratories at the University of Osaka, Japan. As evident as it looks, but no! the scientists were not sitting wasted, instead this is a special kind of experiment that involves genetically engineered bacteria that can multiply itself in any specified format and probably display some color changes as well; all this is being done to cultivate new-gen bacterias that will one day help and assist humans in many of our daily tasks. Well apart from the seriousness of the issue there is always the fun part to every experiment and the Bacteria Mario sure tells us that even the so called busy scientists take a break to have some Mario fun as well (probably they cannot play games such as Halo or God Of War).
Oh! and do remember to have a look at the most shocking photo of Mario, which claims to have uncovered the truth!
via:[Nintendo.Joystiq]