"Augment Reality" T-Shirt For Sale By Level Up Studios
Forget those silly cheap AR cards that come with your Nintendo 3DS, and get this sweet t-shirt by Level Up Studios.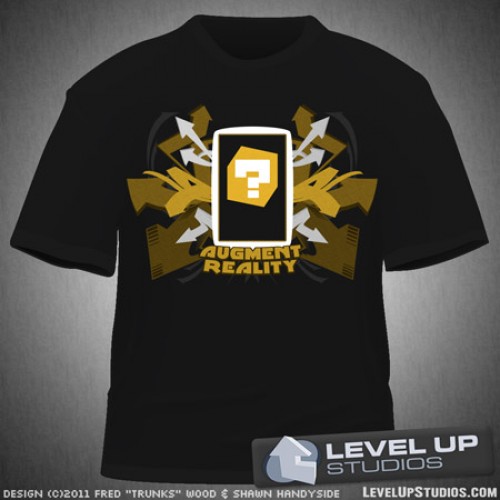 The augmented reality technology that is used in the Nintendo 3DS might be limited by the use of AR cards, but from early impressions that hasn't stopped users from finding alternate means in getting more use out of the impressive pre-installed tech. From giant statue sized Miis to drawing augmented reality cards on whiteboards, clever Nintendo 3DS owners have really gone beyond the calling of what can be done with this novel application.Honestly, augmented reality in of its self is a really impressive piece of software that can lead to many new useful and amusing experiences, just by using real world objects and environments. It's already been successfully implemented in sports, where in the case of telecasted NFL games, augmented reality is used to mark "first down" lines; for ice hockey games, the technology is used to show the location and direction of punk with colored trails.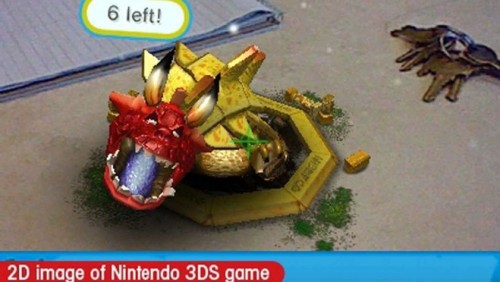 Back to the Nintendo 3DS (because I'm sure if I stray too long on sports I'll draw the entire ire of nerds across the whole planet,) augmented reality for the system relies heavily on the AR cards that come in the box. The AR software uses the "?" box card as a focus point to display the image in the real world. Unfortunately, carrying those cards around just to show off the AR functions can be a pain; good luck if you lose one or accident tear it in half.
We're in luck though, because Level Up Studios, who already create some mighty fine gamer-influenced clothing, have come up with a simple solution to that problem by means of nice looking t-shirt. As seen above, Level Up is now selling a black t-shirt, called the "Augment Reality" (I see what you did there!) shirt, that comes ornamented with the same "?" box block.
It's sleek, it's appropriate for casual occasions, and claims to work perfectly with the Nintendo 3DS as a functioning AR card! The guys at Level Up even went as far as providing a video that shows they come telling the truth.
The "Augment Reality" T-shirt is on sale for a pretty good $18, available straight from their website. Oh, and remember when you wear the shirt, that it's not a real dragon or even Mario popping out of your chest (although we've seen his insides) it's all fake – just like that Great Gatsby NES game.
Via: Level Up Studios