25 Years of Super Mario Bros. Celebrated In This Awesome Nintendo Wii Console
Not missing a celebratory beat, or a second chance to suck us dry of our money, Nintendo has recently revealed a special edition Wii console to coincide with the 25th Anniversary of Super Mario Bros.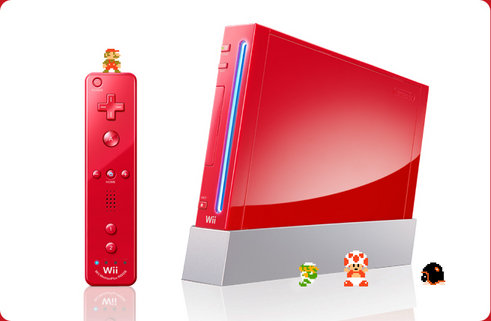 You might of remembered a couple of days ago when Nintendo announced a marvelous looking red Nintendo DSi, with a neat decal, made to celebrate 25 years of the first mustachio plumber-staring, fire flower grabbing, turtle squashing game – Super Mario Bros.
Honestly, I think I've been gushing over press photos of the precisions little DSi for days, but meanwhile in the back of my head I did have this teeny-tiny lingering thought.
Why a fancy anniversary edition Nintendo DSi, instead of a Wii console? Especially considering the fact that you can already play Super Mario Bros. directly from the Wii's Virtual Console.
I'd like to say my mind is somehow unconsciously sending messages to Nintendo headquarters in Japan (haha, no,) but whatever the logical case, we now know the news of The Wii Super Mario 25th Anniversary Edition coming November 11th to Japan only. (Curse you, Nintendo!)
Sticking with uniformity, this prized Wii console has the same juicy red color as it's DSi partner in crime, but it also comes pre-packaged with two interesting items. The first of which is a Wii Remote Plus ( the all-in-one Wii Remote & Wii Motion Plus, that you might of heard of already,) and secondly a special version of the original Super Mario Bros.
The special version of Super Mario Bros. preloaded int the anniversary edition system is form all angles the same N.E.S. classic, but with some tiny graphical differences that are only somewhat known. The only screenshot for the game shows the question mark face upon coin boxes replaced with the number 25. (Hmm, I wonder why?!)
We might not know for a real long while if The Wii Super Mario 25th Anniversary Edition comes stateside, or will forever be a foreign item out of reach for those of us who don't have enough money to stomach the stinky price of importing things from Japan. For now we can only light a candle to the Nintendo gods and pray for a savior.
Here's some more information about that cool Nintendo DSi that's celebrating 25 years of Super Mario Bros. in case you missed it, and after that, why not check out the hidden characters from the new NBA Jam.
Via: Andriasang