Super Mario Soda Display
If you are someone who enjoys playing a lot of mischief when you are strolling through your local supermarket then there is no doubt that destroying the awesomely arranged  stacks of cartons or cans would be a priority one. But let me warn you, if you equally enjoy gaming then you might have to think twice before you even move a muscle.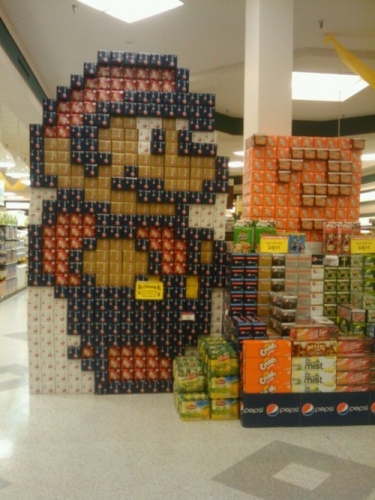 This cool Mario replica is made using various cartons of something of which I have absolutely no idea at all. The main thing to notice is the huge amount of painstaking effort that has been put in by the creator of this cool retro, super marketing art form who still remains anonymous. One of the most interesting things  about such art forms is the amount of creativity and passion of the artists that create such creations and who are driven by their love for some special things in life and their efforts to reflect those feelings in a much more simpler manner.
You might also like to have a look inside Mario's Incredibly Huge Closet or have a look at  the Cool Super Mario Wall Structure.
via: Walyou