Super Mario Keychain Lights
Super Mario has given rise to a number of cool accessories one of them is the set of six different light mascots by Mugen toys. Each of them light up and measure 2 inches and can also be used as key chains which adds to the 'cool' factor; and attached on backpacks, zippers and many such things which you carry around.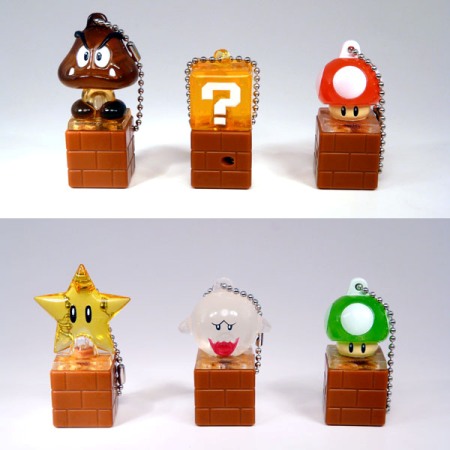 The base comes in a solid color and the Mario mascots themselves are adorned with translucent paint job. However, the mascots are manufactured in Japan and hence the text inlays are only in Japanese. If that isn't a problem for you, you can definitely go ahead with it. The mascots range from plain funny to almost weird. The set of 6 mascots costs $24 and each mascot costs $4.
I especially like the one that has the one grimacing and sulking. It would be nice to have these mascots light up when you play with the keychain, only make sure you are not at an elegant place where eyebrows would be raised at the sight of these mascots. You can also check out the Super Mario Brothers Tattoo and also the ridiculously expensive Super Mario Pendant. I am sure these and more Mario related news will satisfy all you Super Mario fans out there.