Huge Super Mario Brothers Back Tattoo
This could definitely be the coolest Super Mario Brothers Tattoo ever!…and I mean ever! It has the many Nintendo Mario Bros. characters in full view, full force and full imagery.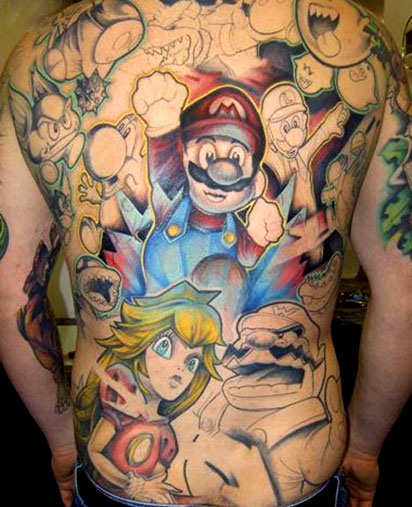 I love Super Mario Brothers as much as every other gamer, but I would never fathom getting a Mario tattoo let alone one that would take over my entire back, but it is totally amazing Nintendo Art nonetheless.
This back tattoo presents the many Nintendo characters we grew up such as the most popular plumber in the world Mario, Luigi, the Princess, Wario, Bowser, and more than a few enemies. Although it seems the actual Nintendo tattoo may not be completely finished, it still has a forceful presence with the main man Mario bright and colorful, simply coming out of the gamer's back.