Nintendo Super Mario Bros Yahtzee
Human beings have always been inventive geeks and without this inventive nature there would have been no progress from stone-age days. Earliest geeky games invented for fun and challenge have been chess, cards and different kinds of dice games like Yahtzee which are very popular even today. Here is Super Mario Collector's Edition Yahtzee game kit for retro geeks who like to play all kinds of old and new games.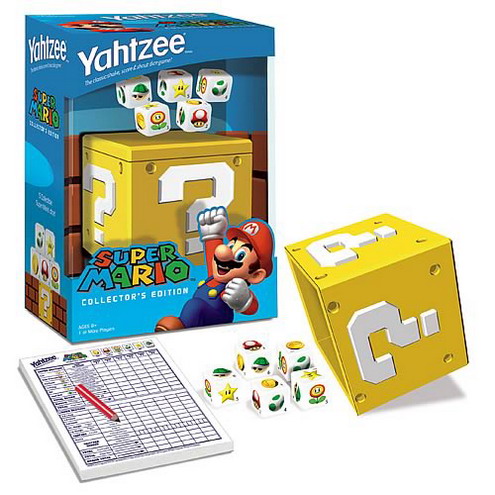 Nintendo Super Mario Collector's Edition Yahtzee is an awesome ode to both Super Mario and Yahtzee. Super Mario Brother's fans will love to add this collector's edition to their Super Mario collectibles. All the dices are decorated with motifs taken from the game. The dices feature different power-ups from Super Mario video games: Coin, Fire Flower, Yoshi Egg, Star, Green Shell and Mushroom. In addition there is a cute Super Mario dice cup for rolling dices. This super cool fun game which can be played anytime and anywhere costs only $16.99.
Good old board games, chess and dice games are changing looks with time thanks to the geek designers and geek games fans. If you are Mario fan but you dont like Yahtzee you can bring home Super Mario Bros Chess or Super Mario Bros Board Game.  Nothing really goes out of vogue and there is no old versus new, there are takers for all kinds of games.