Super Mario All-Stars Special Edition Coming to North America This December
North American gamers will get their wish. Well, actually this was my wish, but the point is that it's coming, and it's awesome. Super Mario All-Stars Special Edition is hitting North American Wiis this December.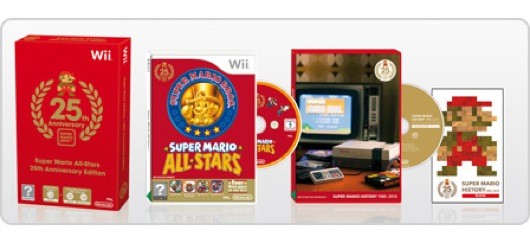 The Super Mario All-Stars Special Edition set contains a boatload of extras that totally make it worth the $29.99 price tag, such as the soundtrack CD, four of the classic games (Super Mario Bros., Super Mario Bros. 2, Super Mario Bros. 3 and Super Mario Bros. The Lost Levels. Unfortunately, no Super Mario World, but it's still a cool package) and a Super Mario History booklet (32-pages) with interviews and art.
The game is disc-based of course, and is essentially the same game that was released on the SNES back in 1993. The extra content is what makes it truly unique. Some may not be happy with the price, because it's just a handful of old Mario games, but this one is definitely fan service. It's made for those who grew up on Super Mario Bros. and love the series and want that extra bit of memorabilia for their collection.
Because it's limited edition, you should probably either pre-order or prepare to purchase it before the holidays are up. We have no idea how long Nintendo plans to keep it in stock, but you can be sure that it won't be for very long.
On that note, I believe it's time for me to run to GameStop and see if it's available for pre-order it now.
If you want to see more of the Mario 25th anniversary edition gear going around, take a look at this Wii or if you're just sick of hearing about Mario at this point, why not read about his old rival-become-friend, Donkey Kong?
(Note to our  readers: we will update you with an Amazon link as soon as we see that pre-orders become available)
Update: You can pre-order here.
Via: Joystiq