Reggie On Late Night With Jimmy Fallon, Skyward Sword Demo & Wii U
The CEO and President of Nintendo of America stops by the popular after-dark talk show to discuss many things Nintendo, including Skyward Sword and the Wii U.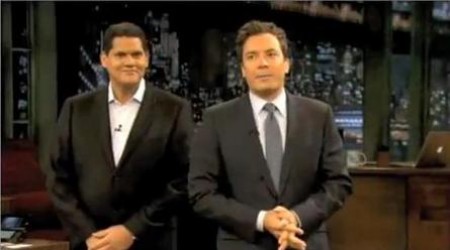 Dropping by the Late Night with Jimmy Fallen set on Friday, President and chief operating officer of Nintendo of America, the "Regginator," Reggie Fils-Aime made a special appearance to live demo a few choice Nintendo-related items, as part of Late Night's week-long focus on gaming.
Mr. Jimmy Fallen, the awesome talk show host and Saturday Night Live alum, has been known for being quite the avid gamer, with The Legend of Zelda series being one of his prime favorites — and wouldn't you have guessed it & to his school-girl giddy delight … the latest title in historic series, The Legend of Zelda: Skyward Sword, was one of the games Mr. Fils-Aime brought with him to the show.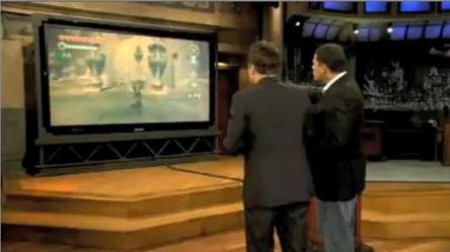 It was a brisk play session, where Fils-Aime handed the Wii controls over to a geek-frenzied Fallen and directed him to an one-on-one sword fight with a giant weapon-carrying skeleton baddie named "Stalfos."
After the waggle-heavy bit of hilarity that was the Skyward Sword's demo, the CEO quickly brought out one of the main attractions of last week's Electronic Entertainment Expo at Nintendo's keynote, the Nintendo Wii U. The newest gaming system from Nintendo wasn't plugged-in unfortunately, and the only thing that was presented was the console's tablet-like controller and central hardware unit.
One interesting tidbit that was gain through this otherwise pointless showcase, was when Mr. Fils-Aime began wrapping up the Wii U segment and mentioned that the console wouldn't be out for a way long time, saying directly to Fallen, "in 2012, after April."
Take that quick statement as you will would-be internet sleuths — personally, I've been hearing multiple rumors over release dates for the Wii U. Some say in the Summer of 2012 and others around the Holiday Season. For now, how about you take a look at Mr. Reggie Fils-Aime's guest spot on Late Night with Jimmy Fallen, which starts off with a demonstration of the AR cards being used for Kid Icarus: Uprising.
VIDEO TO ADD [http://www.youtube.com/watch?v=PAE3PUo3XwY]
Via: Go Nintendo