Pokémon Frozen Cocktails – Gotta Drink Them All (In Moderation)
Check out these tasty-looking Pokémon frozen cocktails created by a fan.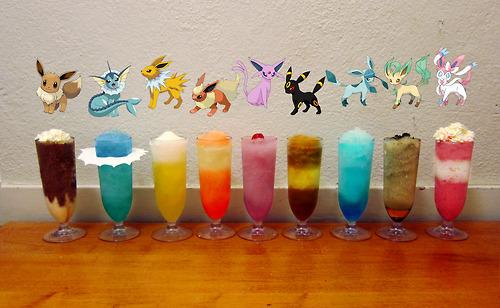 Alcohol seems like a strange thing to talk about in the presence of a kids game, but not when it comes to Pokémon. I've seen plenty of adults on my Twitter feed gearing up for the October 12 release of Pokémon X and Y, and I'm sure many of them would enjoy a refreshing beverage to celebrate the start of their journey to be the best – the best there ever was.
Tumblr user and most assuredly a Pokemon fan, meowpurrnom, has come up with their own recipes for Pokémon frozen cocktails designed to look like the family of Eevees and their nine individual evolutions. I honestly had no idea there were that many of them, but it does give for a nice wide selection of tastes. Sweet and delicious ones, too.
Below are the formulas for each Eevee concoction. The ingredients for every drink look easy to get a hold of, although I do wonder how you would suck up a chocolate eclair ice cream bar through a straw… I'm guessing you blend that one right? There's no listing for the amount of each ingredient either, but I'd expect that experimenting is all apart of the fun.
Eevee: cake vodka, Kahlua, Bailey's, chocolate eclair ice cream bar, chocolate syrup
Vaporeon: rum, Malibu, blue curacao, pineapple juice, Sprite
Jolteon: tequila, red bull, margarita mix, lemon juice, Sprite, salt on the rim
Flareon: fireball whiskey, peach schnapps, iced tea, lemonade, dash of strawberry syrup (for color)
Espeon: strawberry vodka, Hpnotiq Harmonie, Chambord, cranberry juice, Sprite
Umbreon: bourbon, coke, lemon juice, orange juice
Glaceon: rum, blue curacao, peppermint schnapps, lemonade, soda water, sugar on the rim
Leafeon: tequila, peach schnapps, lime juice, ginger ale, mint, honey and a drop of chocolate syrup for decoration
Sylveon: cake vodka, strawberry vodka, Bailey's, strawberry shortcake ice cream bar, cream, strawberry syrup
Happy drinking, but please, do it responsibly! And if you think you've had too many, sit down, relax, and try to read up on the latest firmware update for the Wii U and Mighty No. 9's successful Kickstarter campaign, which meet its Wii U and 3DS stretch goals.