One of the Cutest Uses We've Ever Seen for the Wii Balance Board
It's awesome when people use interesting methods of helping kids overcome obstacles. This time, it's helping very small children who may otherwise be unable to walk by using the Wii Balance Board and wiring it to a wheeled machine known as a Pioneer 3. Most machines used for children with similar disabilities are made for slightly older kids, as the original report reads.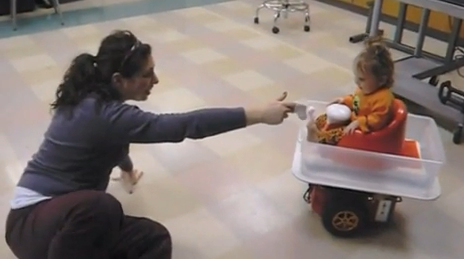 The machine is said to use a kid's natural desire to reach towards something they want. For example, I one holds a juice-filled sippy cup in front of the kid, he or she will lean forward to reach for it. The cart will roll foward until the kid can reach the cup.
What's more interesting is that because the Balance Board can detect weight in four areas, it allows for kids to steer. For example, if the sippy cup is held to the child's left side, they will reach that way. The machine will detect that and carefully turn (which is probably why it's on only two wheels) and move in the direction where the child's weight shifts.
The chair also has a remote control override for added safety. This way a parent can control the machine if the child starts rolling somewhere they shouldn't.
For now this is only a project by Ithaca College called Tots on Bots, and it doesn't necessarily mean we will see it used in the real world. Still, it could make for some interesting technology down the road.
This is as cool as hearing about the guy who modified a GameCube controller so that his physically disabled brother could play. Those who don't want to mod their Wii Balance Board can always look around for some fun games that will get them in shape.
Via: Engadget