Help Bring Maximillian and the Rise of the Mutant Mudds to DSiWare
Austin, TX-based indie developer Renegade Kid has been creating some of the best DS games ever to grace Nintendo's popular dual-screened handheld. Currently, their lineup consists of games such as Dementium, Moon and Dementium 2. Next month, publisher Destineer will be releasing their upcoming off-road racer, ATV: Wild Ride, which we are looking forward to checking out. However, Renegade Kid has another game in the pipeline, but it seems like they need the online community's help with getting it published.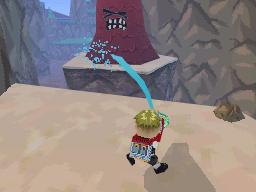 Maximillian and the Rise of the Mutant Mudds is a game the studio has been working on, but has had a hard time finding a publisher for. Renegade Kid co-founder Jools Watsham recently posted on his blog that if enough fans express their interest in the game, they will make sure to release it on DSiWare:
I propose this to you. If we receive over 1000 comments from different individuals on this blog post saying they want it, then we will bring MUDDS to DSiWare.
The game looks very cool, and given Renegade Kid's game history, we can be sure that they will deliver a quality experience with Maximillian and the rise of the Mutant Mudds. The video below shows a preview of the gameplay:
I say, if you have a DSi, why not try to help make this happen? Of course, there are a few rules. They are all in Mr. Watsham's blog:
1) No anonymous posting, as it won't count.
2) Don't leave more than one post. That won't help, either. In fact, it will probably just hurt things.
They need 1,000 comments to make this happen, as of the time of this writing, they are at 387. That's…613 to go. It sounds like a lot, but the list has been growing very nicely. It would be very cool to help an indie studio release this game. Once you sign it, why not let your friends know about it, too?