Have fun with the new Rayman Raving Rabbids Plunger gun for Wii
You must all know about the most famous, fun and funny game to ever hit the Wii right? Rayman Raving Rabbids. Well, get ready for more fun than ever.
Sure we've seen other Wii accessories for the controllers like the Golden Wii Controller, but this one is the best, by far. In a stage of our gaming lives we've all played Rayman Raving Rabbids games at some point in our gamer lives haven't we? I'm most certainly sure we have as its one of the best games ever made for the Wii. It's just simple entertaining fun. Nothing else to say. Anyway the main game doesn't have a story mode like all games do. Rayman Raving Rabbids is more like a super big mini game. It does have some sort of story mode but all it does is tell you what mini games you have to do, in order. And once you've done them you will receive a trophy that you can show all your friends and be proud of.
Anyway as stated before its a bigger version of a mini game, a really addictive mini game because once you start playing Rayman Raving Rabbids you cannot put the controller down, you'll be sucked into the game like coke being sucked through a straw.
Anyway the normal controls for Rayman Raving Rabbids is using the Wii Remote to aim and fire and the Nunchuk to move around, sometimes you don't even need the Nunchuck. Well, now all you're going to need  is the famous Plunger gun, which is the gun you use in the game. As you can guess by the name of the gun, it fires plungers, which is what you use to kill or destroy the funny little rabbits in the game. So now instead of firing with the Wii Remote you can use the best remote there is, the Plunger Gun.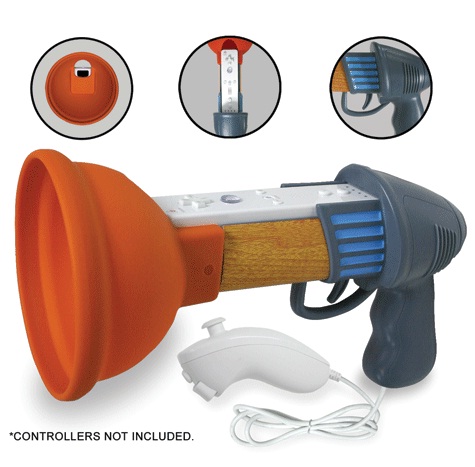 It's like any other accessory for the Wii. You connect your Nunchuck to the bottom end of the gun and place your Wii Remote inside the gun, and then you have fun. This gun was designed by MadCatz. Another awesome thing about it is that you can use it in any other game that requires you to shoot. It's fun, entertaining and simply awesome, and you can show all your friends and make them jealous of your 'rare' Wii accessory.
It is available for only $19.99
and could add a lot of extra fun to the gaming experience.