Ultimate Duck Hunting Wii for Those Who Love "Game"
Hunting isn't exactly what people from a large section of the society would call an ethical pastime. However, hunting game has always been part of cultures all across the world and that is perhaps why the Ultimate Duck Hunting Wii has generated so much of publicity and interest from video game players.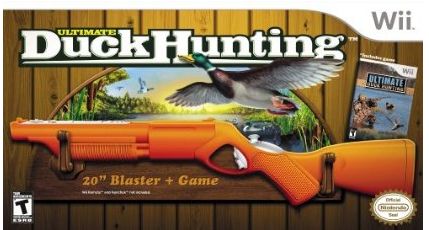 Ultimate Duck Hunting is a video game dedicated to hunting lovers and the goal of the game is to shoot the ducks in a precise manner and use the dogs to collect the carcasses of the ducks.
Ultimate Duck Hunting would be released on the 20th of October and can be pre-ordered on Amazon for just $39.99. The package comes with a 20 inch Wii Rifle which is the only 3rd party rifle licensed by Nintendo, and also includes a multi-player mode which allows you compete with your buddies. You could choose about 6 environments in order to shoot at the ducks.
If you like hunting dogs and have one at home, you could help him train using the Training Mode and keep him healthy and fit. Name-brand guns, camouflage, and decoys are some of the stuff that may encourage you to gear up. You could also choose your doggie amongst the options of yellow, chocolate, or black Labrador retriever. Instead of innocent ducks you would rather slay hunters; you could take a look at the Wii Remote Controller Monster Hunter.